The Mayor is the Civic Head of the Council. In May of each year, one of the Town Councillors is elected to serve as Mayor for one year and another elected as a Deputy. The Mayor chairs meetings of the Full Council and represents the Town at ceremonial occasions. The Mayor also attends events organised by local Charities and other organisations.
Mayor of Prescot 2022/23
Councillor Joanne Burke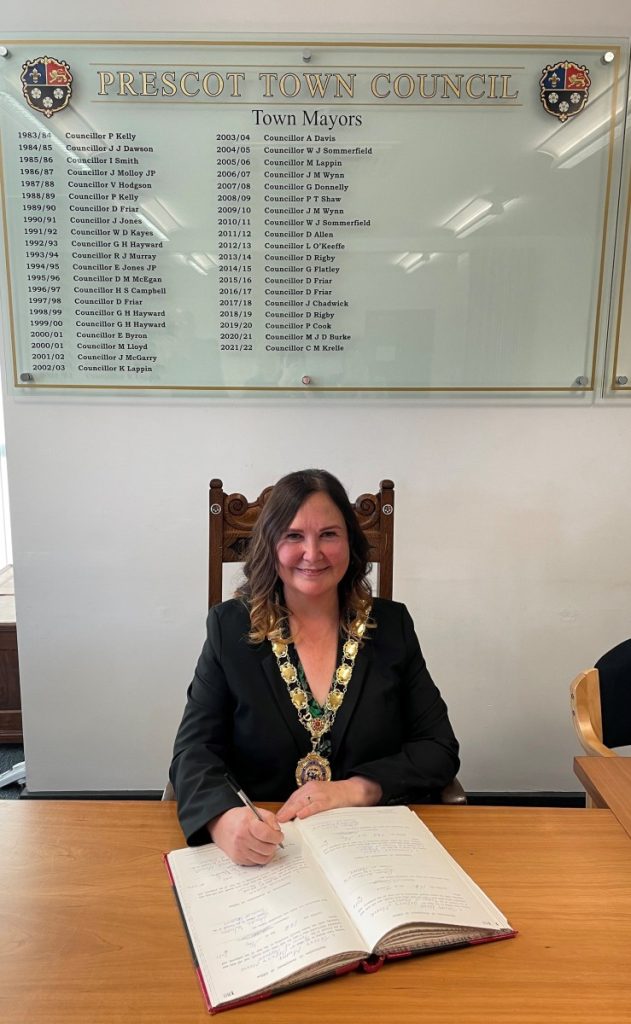 I am absolutely bursting with Pride to have been elected as Mayor of Prescot, my hometown 2022-2023.
I will be representing the Council and Town at official functions (did you know you can invite the Mayor to any of your functions).
However, I will in the main be supporting two very important projects in Prescot, both aimed at the young people in our community and levelling the playing fields with regard to opportunities they can access.
The first is to raise funds to support the purchase and installation of a wheelchair accessible, inclusive play round-about at Eaton Street Park in the Town Centre, Prescot North Ward. At a recent event a Mum and Nan carried a little boy who was unable to walk, up an Inflatable slide to give him the same fun as the other children. They struggled but were delighted to see his joy as he came down the slide. Its 2022 and it is not acceptable he didn't have the same opportunities in our Park. This piece of equipment will be a start to enable all children to enjoy our Green Space.
The second is to raise funds for an indoor/outdoor classroom at Molyneux Drive Woodland & Forestry Space in Prescot South Ward. Over the past 2 years the site has been transformed from an overgrown and badly neglected piece of land to an amazing space with a developing eco system. Local schools have a massive proportion of families living in poverty which restricts opportunities. St Mary & St Paul's & St Luke's primary schools have already engaged 100% with the project and this invaluable resource will enable these and other primary schools & community groups, including the young people and adult autism groups to have sessions in this safe natural space regardless of the weather or time of year.
I promise to do my absolute best for these projects. Get ready for an action-packed year of fundraising and hopefully fun events and support me if and when you can.
For more information on how to invite the Mayor to your event please complete the form below and return it to us by email, post or by hand.