The Mayor is the Civic Head of the Council. In May of each year, one of the Town Councillors is elected to serve as Mayor for one year and another elected as a Deputy. The Mayor chairs meetings of the Full Council and represents the Town at ceremonial occasions. The Mayor also attends events organised by local Charities and other organisations.
Mayor and Mayoress of Prescot 2018/19
Councillor Dave Rigby and Mrs Jackie Rigby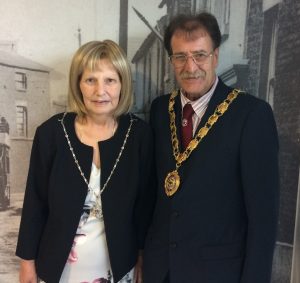 The role of Mayor and Mayoress is a prestigious position to hold and to be chosen by one's peers is a privilege, to be selected twice is an honour. The Mayoress Jackie is Prescot born and bred where I as the Mayor am an adopted Prescotion only having lived here for 45 years. We have two children Amanda and David and two grandchildren Clark and Oliver.
We both look forward to meeting all local groups / organisations in the community and raising funds for the Mayors local charities and also representing this Council and the community to the best of our ability.
For more information on how to invite the Mayor to your event please complete the form below and return it to us by email, post or by hand.