The Mayor is the Civic Head of the Council. In May of each year, one of the Town Councillors is elected to serve as Mayor for one year and another elected as a Deputy. The Mayor chairs meetings of the Full Council and represents the Town at ceremonial occasions. The Mayor also attends events organised by local Charities and other organisations.
Mayor of Prescot 2021/22
Councillor Christopher Krelle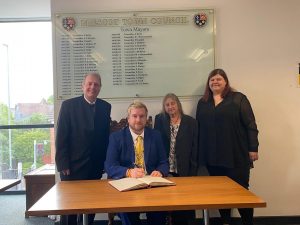 Having lived all of my life in Prescot I was immensely honoured to be elected as Mayor, as far as I am aware I am the youngest and also the only gay person to be elected to the post. My family connection with the Town extends back many generations and indeed my family previously owned the site upon which the new Theater is now being built, where C M Krelle and Sons Haulage Yard was situated which later became R M Krelle and Son.
During my time in office, I intend to ensure that I represent the Town in a manner befitting its rich and esteemed history. I will of course be endeavouring to raise as much money as possible for local good causes, particularly ADAM (Achieving Dreams And Memories) and The Lee Cooper Foundation. Building on the excellent work of my predecessor I will be retaining the Shakespeare'S mile Challenge along with the Pumpkin and Christmas card competitions. I also hope that along with my fellow councillors and the Town Clerk we will be able to restart the Town Council's Local Democracy Project now that we seem to be coming to the end of social distancing.
I look forward to my time in office and hope that with the support of my friends and family particularly my mother Dorothy I can do the people of Prescot proud.
For more information on how to invite the Mayor to your event please complete the form below and return it to us by email, post or by hand.