The Mayor is the Civic Head of the Council. In May of each year, one of the Town Councillors is elected to serve as Mayor for one year and another elected as a Deputy. The Mayor chairs meetings of the Full Council and represents the Town at ceremonial occasions. The Mayor also attends events organised by local Charities and other organisations.
Mayor of Prescot 2019/20
Councillor Pat Cook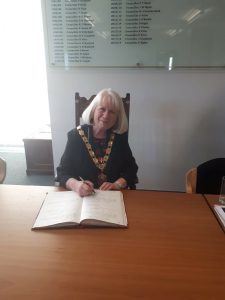 It is a great honour and privilege to have been elected as Mayor of Prescot and I will carry out the duties and responsibilities of the role to the very best of my ability.
I have lived in Prescot with my husband Phil for over 40 years raising our three sons in the town. Both Phil and I are looking forward to representing the town and we are both looking forward to meeting the many local groups and organisations in the community and raising funds to support those groups during the year. In addition to Phil being my consort I will be taking the opportunity to recognise some members of the community by asking them to accompany me to some of the events to which I am invited, I realise this is not the normal practice but I would like to see as many residents recognised for their contribution to our town as I can, and I think this is great opportunity to do so.
I also know that I can rely on the excellent team of town council staff and my fellow town councillors to support me through a busy and exciting year ahead.
For more information on how to invite the Mayor to your event please complete the form below and return it to us by email, post or by hand.