The Mayor is the Civic Head of the Council. In May of each year, one of the Town Councillors is elected to serve as Mayor for one year and another elected as a Deputy. The Mayor chairs meetings of the Full Council and represents the Town at ceremonial occasions. The Mayor also attends events organised by local Charities and other organisations.
Mayor of Prescot and Consort 2017/18
Councillor Jennifer Chadwick and Howard Chadwick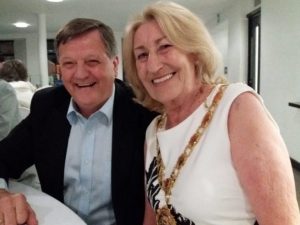 Jennifer was born in Prescot and has always been an active member of the community. She is a founder member and the secretary of The Friends of Prescot Cemetery and Churchyard group, a member of the Heritage, Leisure and culture group, a member of the newly formed Archaeological group and a friend of Shakespeare north.
She has been married to Howard for 48 years and has two children and four grandchildren.
Jennifer has a passion for Prescot and will use her time in office to support and represent her home town while raising as much as possible to support local charities.
For more information on how to invite the Mayor to your event please complete the form below and return it to us by email, post or by hand.