Coronavirus information and hotline for Knowsley Residents
For all Knowsley residents here is a link to all the latest information you need to know from Knowsley Council about the Coronavirus (Covid-19).
Anyone needing support can call freephone on 0800 073 0043 9am to 5pm, Monday to Friday & 10am to 2pm at weekends.
https://www.knowsleynews.co.uk/coronavirus-what-you-need-to-know/
Prescot – Self Isolation Support Scheme
Prescot Town Council are developing a temporary support scheme for those who have taken the decision to self isolate and are in need of basic provisions as a result of doing so.
However a more permanent solution is being developed by Knowsley MBC which Prescot Town Council are expecting to merge with, this number is below.
Anyone needing support can call freephone 0800 073 0043 from 9am to 5pm, Monday to Friday and 10am to 2pm at weekends.
The decision to introduce this scheme has only been taken in the last couple of days so at present we do not have a great deal of stocks and therefore we will seek support from our local community.
Donations of tinned foods such as beans, soups, tomato's, tuna and any other veg along with pasta, rice would be very welcome.
Obviously there remains a need for social distancing therefore if you would complete the form below and return it via email we can arrange a time to have food donated to the Town Hall which will then be dropped off to those in isolation.
If you or someone you now cannot download the form or email in then you can call 0151 426 3933, if you can't get through leave a message and we'll call you back.
Coronavirus Update – Prescot Town Council
In accordance with Government Guide to avoid unnecessary gatherings and support effective social distancing Prescot Town Hall will be closed for all public accessible activities with effect from 5:30pm tonight (20th March 2020). This closure will remain in place until government guidance advises otherwise or the building is re-purposed to support the community in other ways.
Staff will continue to work from the building during normal office hours but will observe social distancing protocols if you need to contact the Town Council please do so by phone or email.
The Town Council are also in process of developing a basic food support package for social isolated individuals and families who are financially disadvantaged as a result of their isolation and cannot order food on line. At present we have no stocks of food so if you can donate please contact us and let us know if you can help with donations.
Finally social distancing does not mean you must stay in doors, you can get a breath of fresh air or let the kids blow off some steam at Brown's Field (KGV Prescot) and Eaton Street Park. Just ensure you follow good practice, keep your distance from others and use hand sanitiser when coming into contact with surfaces others may have touched.
Prescot Town Hall Temporary Closure to the Public
Following Government guidelines on Coronavirus (COVID 19) around avoidance of large gatherings and social distancing it is with deep regret that we must inform you that Prescot Town Hall will be closed to the Public with effect from Friday 20th March 2020 until further notice.
Prescot Carnival 2020 Cancellation
Following Government guidelines on Coronavirus (COVID 19) around avoidance of large gatherings and social distancing it is with deep regret that we must inform you of Prescot Town Council's decision to cancel this year's Prescot Carnival which was due to take place on Sunday 28th June 2020.
Given the current Government advice there are no plans to re-schedule this year's event.
PRESCOT LOVES TO TALK – This event has been postponed until further notice
-Prescot Loves To Talk will be holding its second annual event on the 19th March between 10 am and 11:15 am.
A packed programme will see four Prescot Primary Schools and Kids in Bloom Nursery engage with local residents and shoppers to 'get them talking'  
The full programme for the 19th can be seen below.
Eccleston Street Event 19th March 2020
The Town Council are proud to be involved with and provide support for this wonderful project that seeks to engage with all the people of the Town.
Shakespeare in Love
Join us for a film screening of "Shakespeare in Love" taking place during the Prescot Elizabethan Fayre on Saturday 2nd May 2020 at 7.30pm inside the beautiful setting of Prescot Parish Church.
The screening of the film "Shakespeare in Love" will be a special and memorable occasion for all our Elizabethan Fayre visitors and we thought it would be a lovely way to end the day's celebrations and showcase the magnificent church; Prescot Parish Church, dedicated to St Mary the Blessed Virgin, and recorded in the National Heritage list for England as a designated Grade I listed building with beautiful décor.
The film will begin at 7.30pm and we ask all audience members to arrive at 7pm for refreshments served by our very own Queen Elizabeth I & Sir Walter Raleigh.  Tickets are limited and will be sold on a first come first served basis. There are several ways you can purchase tickets please see below:
Ticket Price: £5 including refreshment
You can pop in and collect tickets from any of the venues below:
Prescot Registrars, located on High Street, between 10am and 4pm Monday to Friday
Poco Bar and Café, located on Eccleston Street between 10am and 4pm Monday to Friday (we ask you to be patient if buying tickets from this venue as there may be a queue)
Jessie and Co, located on Leyland Street between 10am and 4pm Monday to Friday
You can purchase tickets on Event Brite please be aware there is add on  fee if using this method. The link is: https://www.eventbrite.co.uk/o/knowsley-culture-development-amp-events-service-18070476034
Or call 0151 443 5749 and reserve your ticket. 
Community Recognition Awards 2020
Prescot has a rich tradition as a Town with a strong community, sometimes the efforts of particular individuals and groups stand out as being above and beyond that of a usual citizen. These groups and individuals are not always aware of the positive impact they can have, on both individuals and the wider community, and can go largely unsung for their actions.
In order to recognise these individuals and the positive contribution they make to the lives of others, the Town Council operate the Prescot Community Recognition Awards, if you would like to make a nomination please use the form below. Closing date for nominations is 30th April 2020.
Fantastic start to the Local Democracy Programme
Prescot Town Council were proud to have hosted Year 6 from Evelyn County Primary yesterday for the launch of  its new Local Democracy Programme.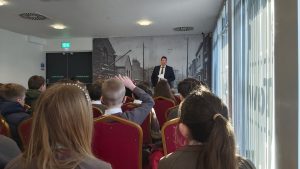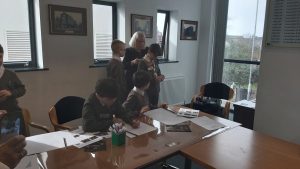 The Local Democracy Programme was conceived by Cllr Joanne Burke during the last summer holiday period, as a way to increase awareness of local democracy and the role of the Town Council. After a successful pilot the Town Council agreed to role the programme out and extend the opportunity to all of Prescot's Primary Schools. Existing links with Evelyn CP were used to develop and tailor a programme that would be engaging and informative for the pupils whilst fulfilling the objectives of programme.
The programme includes
The History of Prescot and its various governance arrangements dating back to the middle ages
The Role of the Council
Role of Mayor
Role of Councillors
Role of the Town Clerk
The programme culminates with a mock council meeting presided over by the Mayor were the pupils assume the role of councillors, putting forward their motions to the Council, before finally receiving a certificate of completion from the Mayor.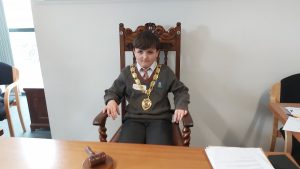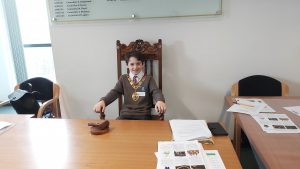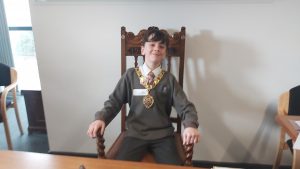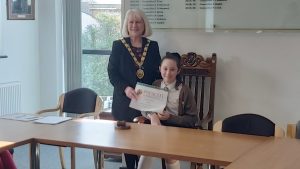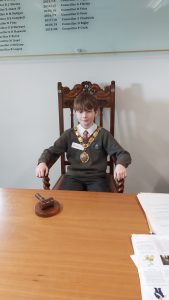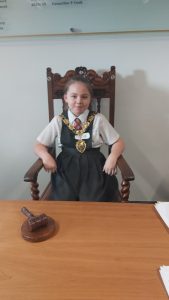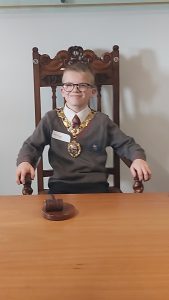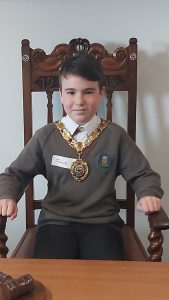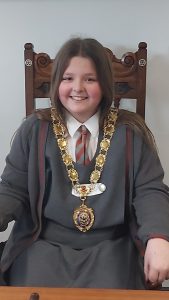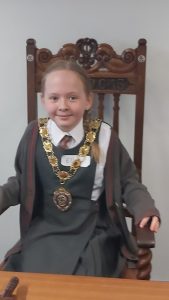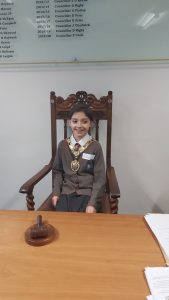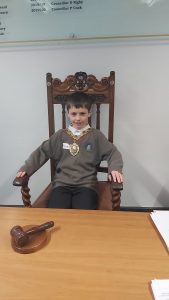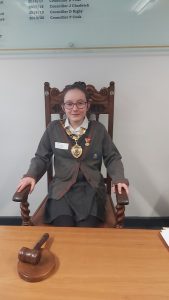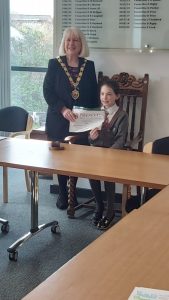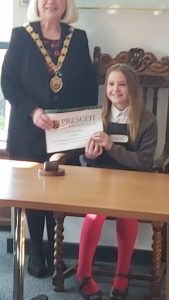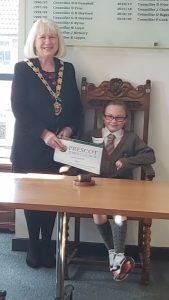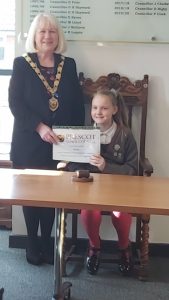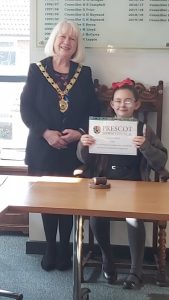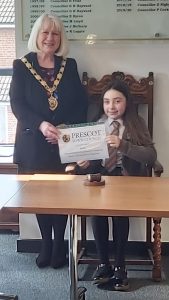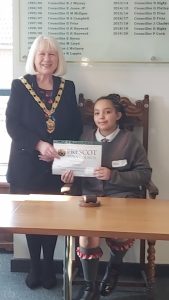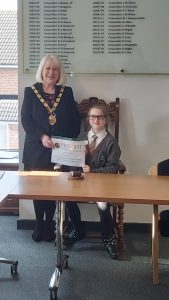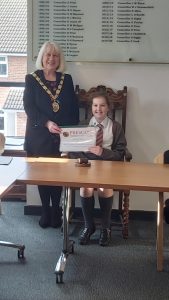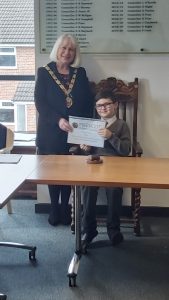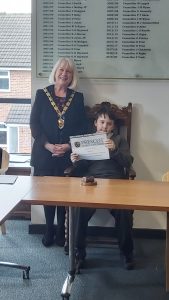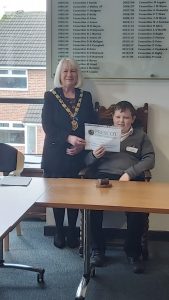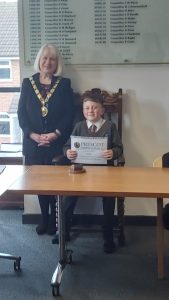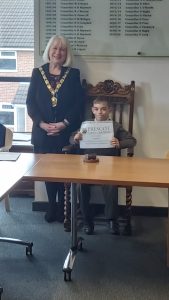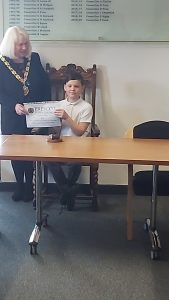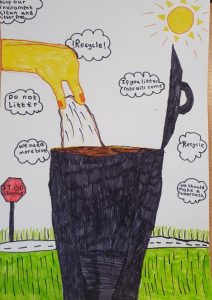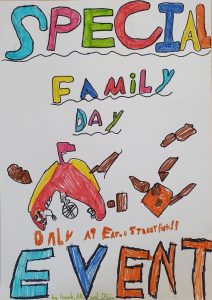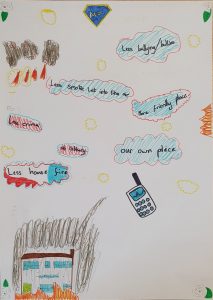 Totally Locally Fiver Fest comes to Prescot again
PRESCOT'S INDEPENDENT SHOPS AND BUSINESSES ARE JOINING IN WITH THE TOTALLY LOCALLY NATIONAL FIVER FEST – A HIGH STREET SHOPPING CAMPAIGN
PRESCOT IS PART OF THE TOTALLY LOCALLY NATIONAL FIVER FEST 15 – 29 FEBRUARY THOUSANDS OF INDEPENDENT BUSINESSES ARE COMING TOGETHER TO HIGHLIGHT THEIR CONTRIBUTION TO THE GREAT BRITISH HIGH STREET AND PRESCOT IS TAKING PART.
To show the importance of supporting our high streets, Prescot is joining in with thousands of independent shops and businesses across the UK, in over 100 High Streets, to put on very special £5 offers across two weeks in February, in the TOTALLY LOCALLY FIVER FEST.
Cath O'Grady of The Dance Shop said "The independent shops and businesses are what makes our town special and unique. We appreciate it when our community support us, so these offers are to say thank you for that support, and to show just what great value our local businesses are.
" FIVER FEST is a free to join campaign, devised and run by Totally Locally, a grass roots High Street organisation that has been helping businesses and High Streets to help themselves since 2010 with incredible results.
Fiver Fest is based around the now famous Totally Locally £5 message:
"If Every Adult in Prescot spent £5 per week in their local shops and businesses, instead of online, at a national chain or at the big supermarket, it would be worth £5.6 million going directly into our local economy. Which means more jobs, a better high street, a stronger economy & a nicer place to live. Makes you think doesn't it?!"
Spending just £5 a week in Prescot makes a big difference to our High Street, the "Fiver Fest" promotes this message.
Fiver Fest has been running successfully in towns in the UK and abroad over the past 7 years, and last October 63 towns (including Prescot) from all over the UK to promote themselves AND each other on the same week. The result was phenomenal with reports of new customers, people rediscovering shops they hadn't been into in years and huge sales of £5 offers.
Fiver Fest Offers have been imaginative and varied; from £5 massages, to a £5 local meat packs, £5 best-selling book offers to £5 lunch deals.
"We know Fiver Fest isn't going to change the world", said Chris Sands of Totally Locally, "But small changes in spending habits can really make a difference to our high streets. Just by diverting £5 of our weekly spend to local independents we give them a fighting chance to thrive. It's a conversation worth having!"
It is for this reason, that the third Fiver Fest is taking place. This time with over 100 towns and High Streets on board! For any independent business wishing to participate in the Fiver Fest in Prescot, please contact Louise Gillespie at louise@jessieandco.co.uk or 0151 538 2541
Here are some examples of the great Fiver Fest £5 offers in Prescot:-
Aphrodite Hair & Beauty         £5 for make up, braiding or eyebrow shape
B P Devlin                               £5 for 3 sirloin steaks, 4 chicken fillets or 2 quality cook in sauces
Designer Kidz Boutique          £5 for all socks
Down In Albion                        £5 for soup & a ciabutty or Breakfast Muffin with tea or coffee
Gracies                                    £5 for 6 small personalised strip banners with a picture
Honeycomb                             £5 for dry cuts, blow drys with apprentice or Quick Fix Facial
Jessie & Co                             £5 on all necklaces
Natural & Gorgeous                £5 for an eyebrow wax
Party World                             £5 for a personalised foil balloon
Poco Loco                               £5 for doubles from a selection of gins, vodkas & other spirits
Renaissance                           £5 for an eyebrow shape or eyebrow tint with Courtney
The Bard                                 £5 for large wine or double Whitley Neil gin & tonic
The Brazilian Waxing Studio  £5 for an eyebrow wax
The Dance Shop                     £5 on all dance tights
The Hair Shack                       £5 for a dry trim or an eyebrow wax
The Deanes House                 £5 for 2 cocktails
The Old Mill                            £5 for Breakfast & a pint
The Oven                                £5 for a 12" Margarita Pizza
The Vestry                              £5 for a box of 4 cupcakes
Urbano Chiringuito                  £5 for a small plate with bottle of San Miguel or glass of sangria
For further information please see www.totallylocally.org
Totally Locally was founded in Calderdale, West Yorkshire in 2010 by award winning brand and marketing expert Chris Sands. There are now over 60 towns in the UK who have gone 'Totally Locally' with the full 'Town Kit' and has reached as far as New Zealand, USA and Australia. Chris decided to give away the campaign, after he was inundated with towns after the success of the campaign in Calderdale, where he lives. "I just wanted to see what would happen!" he said. Totally Locally is a marketing kit for any town to use to promote their independent businesses using key marketing messages including 'The £5 Message', 'The Magic Tenner', 'Fiver Fest' and to encourage a new way of working together for independent businesses. Fiver Fest started as part of this, but has now become its own event. Totally Locally Towns have won High Street of The Year Award in Crickhowell in 2019, Hebden Bridge in 2018 and Belper in 2014. Other Totally Locally towns have won national and regional awards. In 2015 Chris received an Honorary Doctorate from Staffordshire University for his work helping in the grassroots led regeneration of towns across the world.
To arrange an interview with Chris Sands, founder of Totally Locally please contact:
Phone: Chris Sands 07879 473125