Prescot Town Council supports local National Citizen Service
Local NCS Youth volunteers offered their assistance last week in the painting of the concrete wall at Eaton Street Park as part of their Social Action part of the National Citizen Service.
Prescot Town Council supplied all the materials and Prescot Town Councillors along with members of the Friends of Eaton Street Park helped out.
The Mayor of Prescot was also on hand to show her appreciation.What a great job they all did and the wall looks so much better now (see photographs below).
Prescot Town Council would like to say a big thank you to all those involved in the project.
Shine 2019 – Do you have a talent to showcase?
We are delighted to inform you that Shine 2019 will be taking place on Friday 18th October and promises to be a fantastic evening of entertainment. The search is now on for performers aged from 1 to 100 to be part of the event and we would like to give the opportunity to everyone  to have a chance to audition and send in an online entry form uploading their school audition video at the same time.
 Knowsley's Shine 2019 showcase provides an exceptional opportunity for individuals or groups to showcase their talent to an audience of more than 500 at Knowsley Leisure and Culture Park in Huyton. Whether you're a first-time performer or a more experienced showman, being part of Shine is an unforgettable experience – performing on a real stage at a prestigious event in front of a big audience. We are looking for all performers – singers, actors, dancers, musicians, poets, magicians… in fact anyone with a talent to share!  Applications are now open for you to take centre stage at this year's prestigious Shine talent competition in Knowsley.
Do you or anyone you know have a talent? Why not enter?
How do you take part in Shine 2019?
Enter now www.knowsley.gov.uk/shine or visit Shine 2019 on facebook: www.facebook.com/shineknowsley. You'll need to fill in an application form and provide a short video audition which gives a flavour of your performance.  Closing date for entries is 20th September 2019.
If you need more information please email KLCPevents@knowsley.gov.uk or call 0151 443 5749. Look forward in hearing from you soon.
Deputy Mayor of Prescot attends Alternative Futures Group first Open Day
The Deputy Mayor of Prescot, Councillor Mark Burke, was the chief guest at Alternative Futures Group (AFG) first ever open day at its offices in Prescot for the people it supports and their carers.
The inspiration for the day came from the people we support – Tony Gibb, the AFG Fun Day Chair and Lewis Maguire, who was the AFG Fun Day coordinator.
Director of People and Organisational Development Kirsty Muldoon said: "It was a fantastic opportunity to showcase the work we do, and the support available through our partners to help improve the quality of life for people living with a disability.  I'd like to thank all our partners for their generous support.
"There was a wide range of activities on the day covering charities, sports clubs, youth groups, businesses and community groups. All the money raised will be used for the people we support in helping them choose and achieve their aspirations and goals."
Activities on offer included a penalty shoot-out, hula hoop competition, spin the wheel, hook a duck, bingo, as well as a DJ, drama workshops, face painting, a raffle, cake making, burgers and ice-cream.  And the weather was kind to us on the day, with about 400 people involved.
Councillor Burke said: 'It was a genuine pleasure to attend this event on behalf of Prescot Town Council. I was lucky enough to chat with many staff and guests along with many of our community. I also took part in lots of the wonderful activities. I will especially treasure my Hula Hoop Badge! There were plenty of laughing and smiling faces to be seen which made for a special atmosphere. Following todays undoubted success, I hope that this is the first of many events that AFG will hold at this wonderful facility to showcase what they contribute to our community. I will practice my Hula Hooping in anticipation.'
The not-for-profit charity works locally in the community and through its independent hospitals to provide a wide range of innovative and bespoke care services delivering life-enhancing person-centred support to people with a diverse range of care needs including learning disabilities, physical disabilities, mental health concerns, substance misuse issues, complex care, autism and young people in transition.
AFG is one of the UK's largest health and social care charities, with a strong track record of more than 25 years.  We support more than 1,200 disabled people across the North West of England and employ more than 2,300 staff.   We are passionate about creating a world where people control their lives.
Police Commissioner launches search for new Youth Ambassadors
Merseyside's Police Commissioner is looking for 10 enthusiastic, skilled young people to volunteer to support, challenge and inform the work of her office and the wider criminal justice system.
Jane Kennedy is looking to recruit a group of new volunteer Youth Ambassadors to help shape the way she engages with young people while giving them a greater voice in policing and community safety matters.
The role will last for 12 months and is open to those aged between 16 and 24, who live, work or study in Merseyside.
Youth Ambassadors will meet bi-monthly with the Police Commissioner and her team and will assist in the creation and delivery of a new Youth Engagement Plan, which they will help to share with other young people by visiting schools, youth clubs and community groups across Merseyside. They will also be expected to attend youth engagement events, inform campaigns aimed at young people and review the services offered to their peers.
The new Youth Ambassadors will replace the Commissioner's Youth Advisory Group which has run since 2013.
Jane said: "I'm looking for 10 enthusiastic, engaged young people who aren't afraid to challenge, have an interest in policing and community safety and want to get fully involved in these new Youth Ambassador roles.
"Throughout my time as Merseyside's Police Commissioner, I have been keen to listen to the views of young people. The Youth Advisory Group has been amazing, sharing their views and feedback with me openly and honestly and I have greatly valued their opinions and feedback. The Ambassador role is a development of the Youth Advisory Group and will enable the young people to deliver a closer engagement with and challenge to myself and to the police.
"I am looking to recruit a smaller group of dedicated, eager and skilled young people to become even more involved with my work. I am hoping these young people will be real ambassadors for their peers, listening to their views and presenting them to me in order to inform a new Youth Engagement Plan.
"I'm looking for young people who really want to make a difference and be a voice for change. In exchange, they will get some fantastic opportunities to learn more about policing and the criminal justice system and influence decision making at a senior level. They will also receive a range of training and development opportunities and some great experience to add to their CV.
Any young person interested in applying can find more information and the application form at https://www.merseysidepcc.info/youth-ambassadors.aspx and return it to info@merseysidepcc.info
Alternatively, you can post a copy to The Office of the Police and Crime Commissioner, Wavertree Police Station, Wavertree Road, Liverpool L7 1RJ.
The deadlines for applications is close of play on Friday 9th August 2019.
For more information, please call 0151 777 5155 and ask for a member of the Community Engagement team or email info@merseysidepcc.info.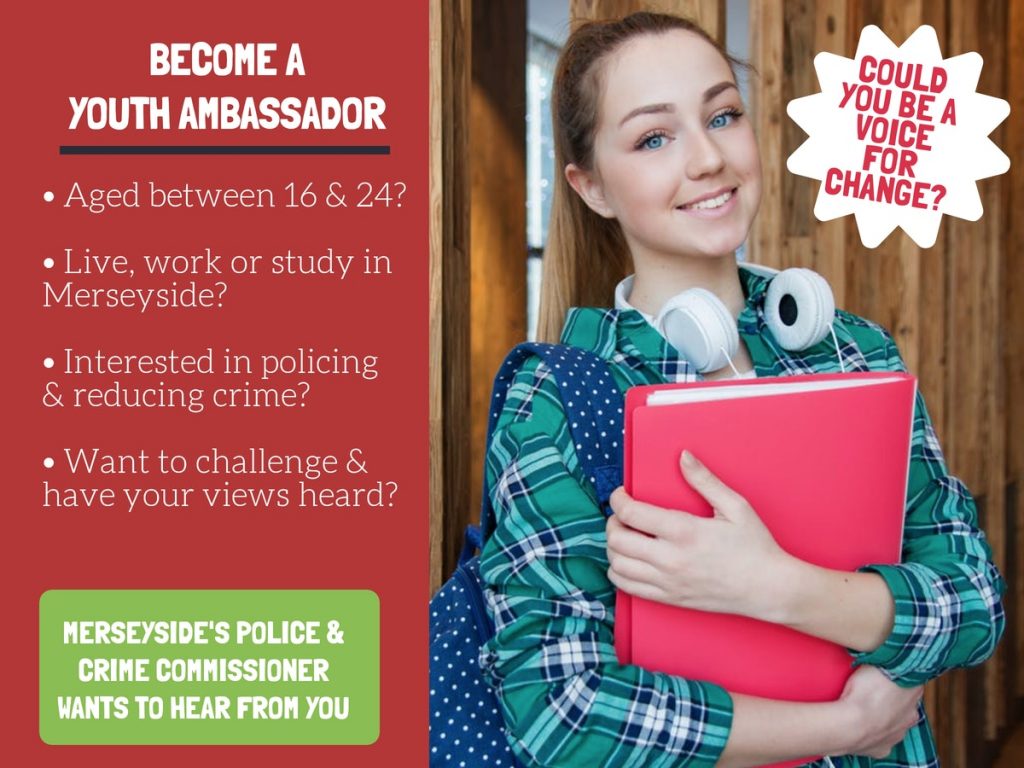 School Uniform Recycling Scheme
Please don't throw your children's old uniforms away !
Prescot Town Council are running a School Uniform Recycling Scheme. If you have any items of Uniform including sports kits that are in GOOD CONDITION (pre-loved) but no longer required, can you please them drop off asap at Prescot Town Hall or Bryer Rd Community Centre. They will be laundered, ironed, placed on a rail and made available for anyone who needs them.
If you require any uniform items you can ring Prescot Town Council on 426 3933 to make a private appointment to come and select the items that you need, your privacy and confidentiality is absolute and will be respected at all times.
Town Council Team Up with Food Bank as Drop Point
Prescot Town Hall can now be used as drop off point for any cleaning or toiletry products that you may wish to donate to the local food bank at the Salvation Army on Warrington Road. The Town Hall has been chosen as an additional location due to its longer opening hours Monday to Friday 9am to 7pm and Saturday mornings 7am to 11am.
Stop Hate UK Leaflet Drop
Prescot Town Councillors Frances Wynn and Tom Large supported the leaflet drop for 'Stop Hate UK' on Friday 5th July 2019 around the Molyneux Drive area of Prescot.
This was organised by the Police & Crime Commissioner's Office in partnership with Knowsley Council, Merseyside Police and Prescot Town Council.
Knowsley Flower Show – Sunday 4th August 2019
Prescot Carnival 2019 is a roaring success
For the eighth successive year Brown's Field was the scene of much enjoyment as it played host to the 2019 Prescot Carnival. This Town Council run event continues to attract more and more visitors each year, all of whom are welcome to enjoy a wide variety of free activities and performances throughout the day, along with a large funfair, trader, service provider and community stalls. Despite the overcast weather visitors flocked in their hundreds to enjoy and support this fantastic community event, those in attendance were treated to performances from:-
Keiron Kenny – Singer
West Lancs Dog Display Team
Smile Dance Academy & Performing Arts – Dancing and Drama
Jamie Cushion – Prescot's Got Talent under 16's Winner – Singer
Astrid – The Voice Kids UK 2018 – Singer
Louise Bergquist – Singer
Jan Williams Theatre School – Dancing
Lauren Oldham – Prescot's Got Talent over 16's Winner – Singer
Preparations for next year's Carnival are already underway – if you would like to take part please get in touch.