Policing the Pandemic – a young persons view
Keeping well at home booklet
A booklet designed for Older people or those who are self isolating at home during the Coronavirus pandemic. There are some good tips around what you need to do, keeping your mind well and active, moving more and exercise, keeping nourished at home along with lot's of useful numbers.
Prescot Community Recognition Awards – deadline for nominations extended to 30th June 2020
Due to the current COVID 19 situation we are aware that the Prescot Community Recognition Awards have not been at the forefront of anyone's mind. The closing date for nominations was the end of April although we have decided to extend this until 30th June 2020.
As you will know the Town Council hold an awards evening every year to celebrate the winning nominees, due to the current social distancing restrictions this is unable to take place at the moment but we hope to hold the evening in the future when it is safe to do so.
For further information on the awards along with previous winners and how to make a nomination click on the link below.
Prescot Rainbow Trail Competition Winners
The Mayor of Prescot is pleased to announce the winners of the Prescot Rainbow Trail Competition and provide you with Prescot's Virtual Rainbow Trail.
We have made a video virtual rainbow trail of all the entries we received, turn up your sound and enjoy the wonderful decorations of the homes in Prescot from the safety of your own home. To see the virtual trail click here Prescot Virtual Rainbow Trail
Congratulations to all the winners and a big thank you to all those who entered the competition.
1st Prize – Willow – Age 2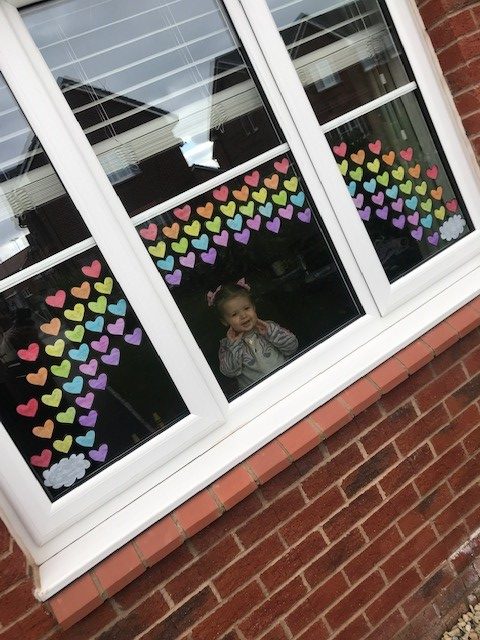 2nd Prize – Darcie – Age 11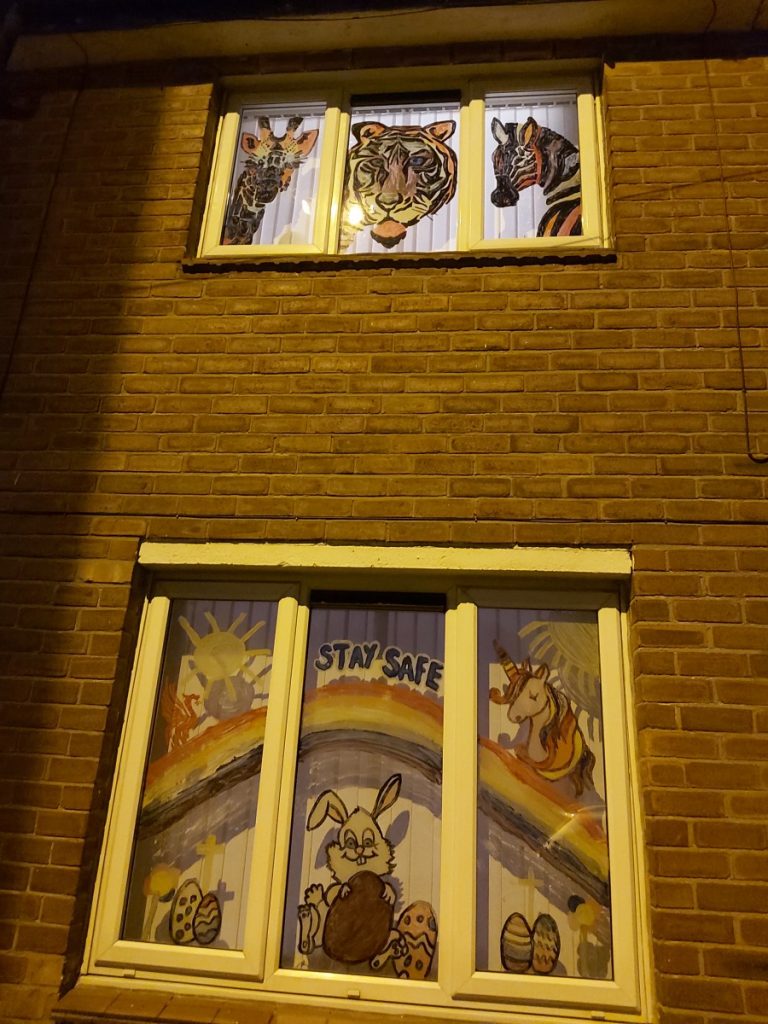 3rd Prize – Thomas – Age 9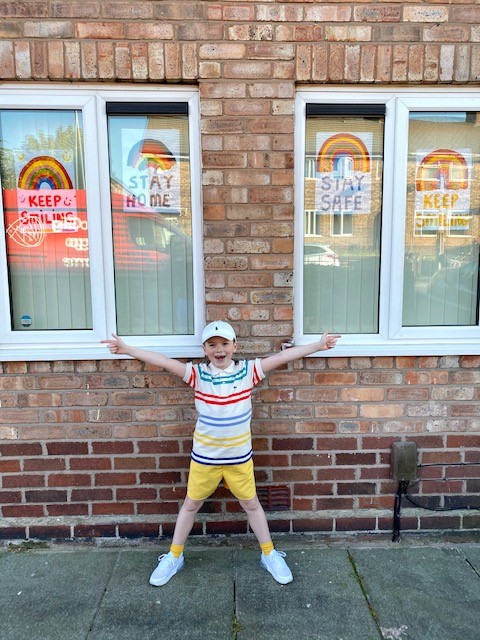 Positive thoughts on lockdown from a positive thinking teacher
When normality returns
What if children have more empathy,
If they can enjoy family conversation,
If they are more creative and can entertain themselves.
If  they love to read, enjoy expression through poems and diaries and have learned the value of money and careful spending.
If they can talk about a film and explain why they have enjoyed it,
If they can appreciate simple things: playing made-up games in their garden or sitting by a window to reflect
If they can notice the changes and joys of nature: flowers growing from seed, mother birds cheeping to their chicks, trees clothing themselves in new leaves, the feel of a gentle breeze, and the myriad of colours all around us.
If this generation is the one that learns to cook, tidy their room and sew.
If they learn the value of eating together as a family and finding the good to share in the small delights of every day,
If they are the ones to place great value on all our public servants and the essential support workers like truck drivers, grocers, cashiers, custodians, logistics, and health care workers, just to name a few of the millions currently taking care of us.
What wonderful family members and friends these children will make.
What a powerful contribution to society they will offer.
If among these children, a great leader emerges who had the benefit of a slower pace and a simpler way of living – to truly learn what really matters in life
– OH HOW OUR COUNTRY COULD BE A HAPPY PLACE FOR ALL.
2020 Prescot Festival Short Story Competition
Prescot Festival Offers Literary Challenge during the Lockdown
With gatherings and events being postponed nationwide at the moment, a Merseyside town has decided that one aspect of its summer arts festival can go ahead as planned—lockdown or no lockdown.
Organisers of the Prescot Festival of Music & the Arts will press on with their annual Short Story Competition, and have announced that 'Dreams' will be this year's theme, opening a world of creative possibilities to prospective authors.
Now in its ninth year, the writing contest offers a £100 prize for the winner. Previous winning entries have included tales of wedded bliss gone awry, a whimsical wheelbarrow race with an elderly relative, and a haunting encounter at Lime Street Station.
The contest is open to all unpublished fiction writers in the six boroughs of Knowsley, St Helens, Sefton, Halton, Wirral and Liverpool. There's a 1,000 upper word limit but no minimum wordcount.
In a change to previous years' requirements, submissions are invited via email rather than by post. The deadline is Friday 29 May 2020. The full rules are online at www.prescotfestival.co.uk.
The Prescot Festival of Music & the Arts was founded in 2005 in the historic Lancashire town of Prescot, Merseyside. The organisers continue to keep festival audiences up-to-date and occasionally entertained through their official website, www.prescotfestival.co.uk, and their Facebook and Twitter pages.
Full rules are below:
2020 Prescot Festival Short Story Competition
Stuck at home and feeling imaginative?
Put pen to paper and write a short story of up to 1,000 words for the 2020 Prescot Festival Short Story Competition. As always, a prize of £100 will go to the winning author.
The theme for this year's contest is DREAMS. We've created a word cloud to inspire you. You don't have to follow the theme slavishly—it's a jumping-off point for your imagination, and you can interpret it figuratively or literally. Scroll down for the full rules (and please read carefully – we are doing things a little differently this year).
Entry to the 2020 Prescot Festival Short Story Competition is FREE and open to non-professional writers of ALL AGES living in Merseyside and Halton. This year's theme is DREAMS. The word cloud above is also full of ideas to kick-start your story.
The deadline is 29 May 2020, and there's a £100 prize for the winner, so start writing!
2020 Prescot Festival Short Story Competition Full Rules
To enter, you must live in one of the following six boroughs: Knowsley, St Helens, Sefton, Halton, Wirral or Liverpool. You must not have had a piece of fictional writing professionally published, ie, in return for payment. There are no age restrictions. Only one entry per person is allowed.
The story you submit must be inspired in some way by the following theme: DREAMS. It is your choice how to interpret the theme. The story must be your own original work of fiction (no biography, poetry or nonfiction), unpublished, in English, and with no more than 1,000 words. There is no minimum word count.
Type your story in size 12 font. You may include page numbers and the title of the story in the headers and/or footers, but you must NOT include your name or any identifying details, such as an address or email address, in the document itself, as it will be judged anonymously.
Submit it via email to prescotfeststory@outlook.com. Include your name and contact details in the body of the message and the short story as an attachment in Word (.doc/.docx), ODT, RTF or PDF format only
The closing date for the competition is Friday 29 May 2020. All entries must be received by then.
A panel of judges will read the stories, whose writers remain anonymous, and decide a winner. The judges' decision is final.
The winner will receive a prize of £100, and their name will be posted to the festival website on or shortly after 1 July 2020.
You retain full copyright of your story, but by submitting it, you give the Prescot Festival permission to republish it online and/or in print, naming you as author.
24/7 Mental Health Crisis Line for Knowsley residents
Prescot Rainbow Trail Competition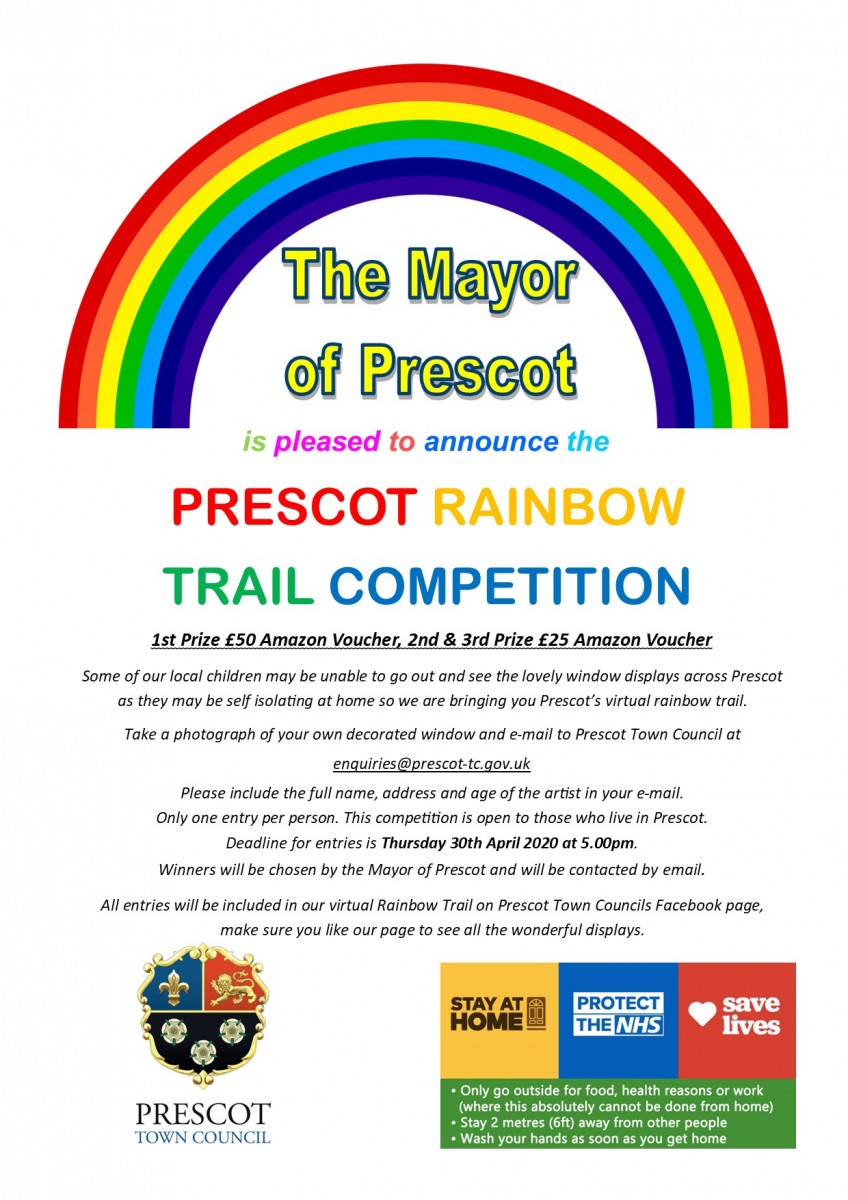 Prescot Town Council – Self Isolation Support Scheme
Prescot Town Council have been proactive in delivering a temporary support scheme for those following government guidance to self isolate and are in need of basic provisions as a result of doing so. We have now agreed to support Whiston also with our scheme.
If you have lost your income temporarily (zero hrs or agency jobs) as a result of Government Directive Self Isolating and you live in the township of Prescot or Whiston (so if you pay your precept to either Town Council) you can apply for a 'Basic Box' of foodstuffs to support you during the 2 week isolation period, to be delivered by our volunteers to your home. Please ring the Knowsley Support Line on 0800 073 0043 to request help and they will pass your request on to the Town Council.
However a more permanent solution is being developed by Knowsley MBC which Prescot Town Council are expecting to merge with.
In the meantime, anyone needing support can call freephone 0800 073 0043 from 9am to 5pm, Monday to Friday and 10am to 2pm at weekends.
🛑 If you live in Knowsley and cannot afford food please call: 0151 538 8243 or you can email foodbankteam@big-help.info
Foodbanks and Foodclubs are open as usual….
📅 Monday 📍 Huyton & Kirkby⏰ 12 noon to 2.pm: St George's Church. 46 Primrose Dr, Huyton, L36 8DW
⏰ 12 noon to 2pm: St Andrews Church, Highfield, Tower Hill, Kirkby L33 1ZF
📅 Tuesday 📍 Kirkby
⏰ 12 noon to 2pm: Pride Centre, 2 Simonswood Lane, Kirkby, L33 5YP
📅 Wednesday
📍 Stockbridge Village & Prescot
⏰ 12 to 2pm: The Community Hub, The Croft, Stockbridge Village, L28 1NR
⏰ 12 noon to 2pm: Salvation Army, Prescot, Warrington Road, L35 5UA
📅Thursday
📍 Huyton
⏰ 12 noon to 2pm: St Dominic's Church, Southdean Road, Huyton, L14 8UL
📅Friday
📍 Kirkby & Huyton
⏰ 12 noon to 2pm: St Andrews Church, Highfield, Tower Hill, Kirkby L33 1ZF
📅Saturday
📍 Halewood
⏰ 11.00am to 2.00pm: St Mary's Church, Leathers Lane, Halewood, L26 9TS
Coronavirus information and hotline for Knowsley Residents
For all Knowsley residents here is a link to all the latest information you need to know from Knowsley Council about the Coronavirus (Covid-19).
Anyone needing support can call freephone on 0800 073 0043 9am to 5pm, Monday to Friday & 10am to 2pm at weekends.
https://www.knowsleynews.co.uk/coronavirus-what-you-need-to-know/