Mayor of Prescot's – ShakespeareS Mile 2020
The Mayor of Prescot, Cllr Mark Burke would like to invite you to take part in the ShakespeareS Mile Challenge. This is something for all ages and abilities and adheres to the current social distancing requirements.
Entry packs can be collected from Prescot Town Hall Monday to Friday between the hours of 9.30am – 4.30pm.
Payment of £5 per participant can be paid in cash upon collection of pack or can be paid via bank transfer prior to collection (contact us for bank details if needed), all profits raised will help local charities and worthy organisations via the Mayors Charity.
Further details can be found on the flyers below. We have already had lot's of support for the ShakespeareS Mile and photographs of those who have completed the mile can be found below.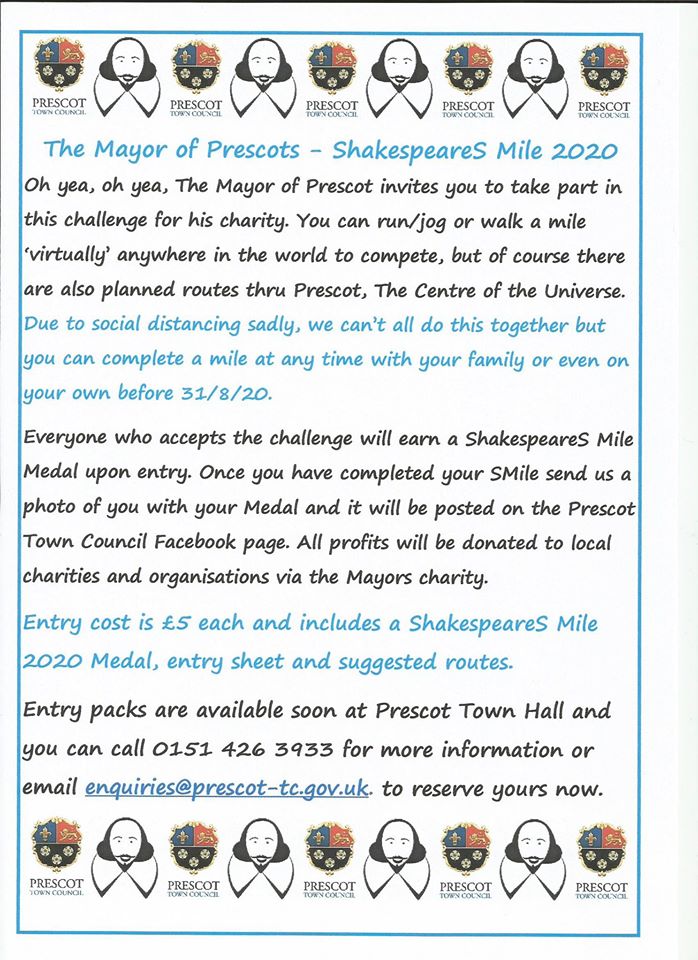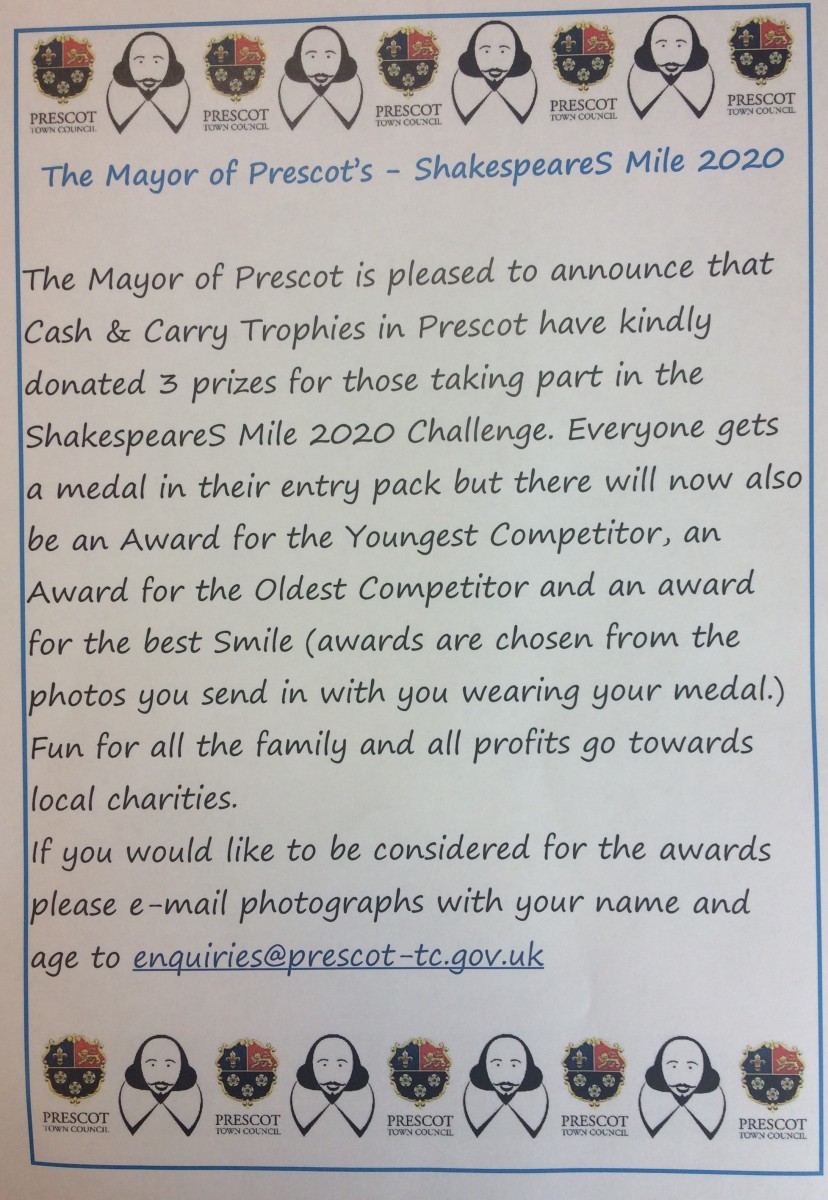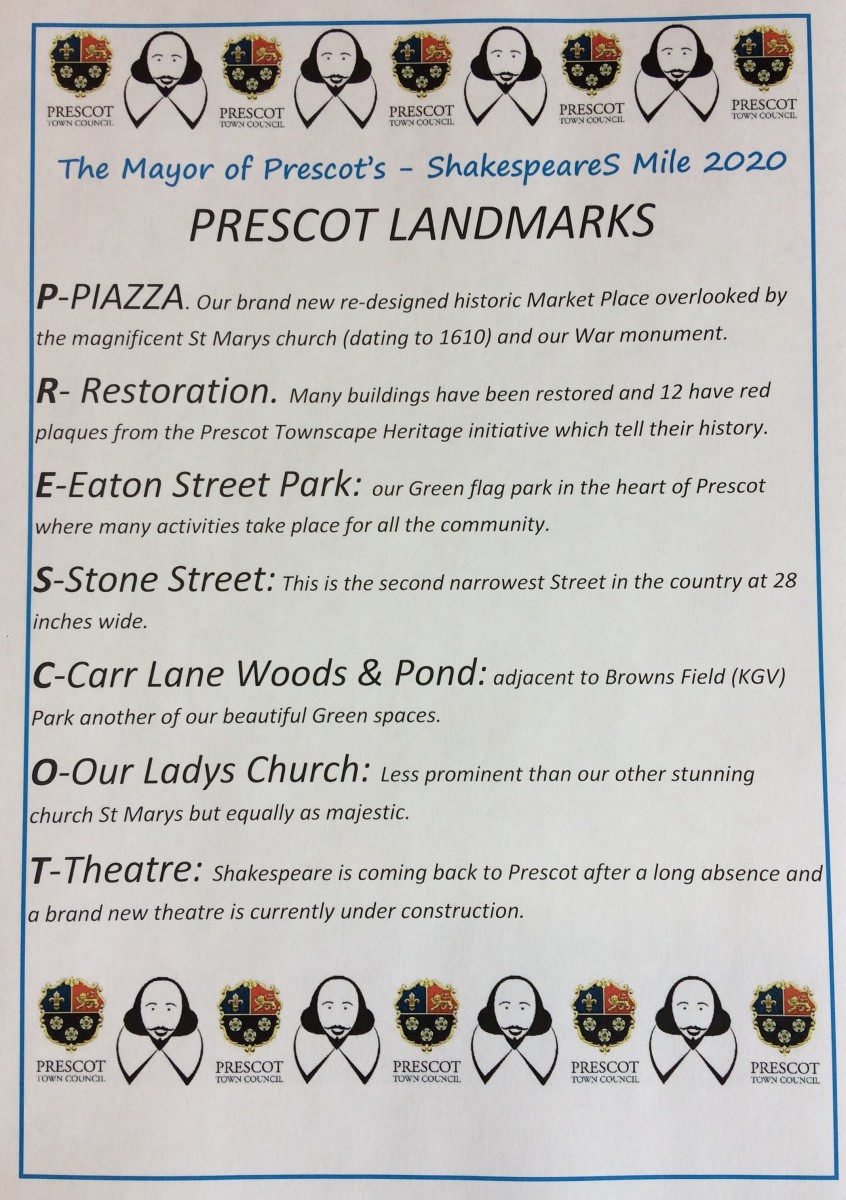 Mayor of Prescot Opens Urban Kingz Mixed Martial Arts Academy in Prescot
The Mayor of Prescot, Cllr Mark Burke, was recently invited to the open day of 'Urban Kingz,' the brand new Mixed Martial Arts Academy located on Kemble Street in Prescot and created by head coach Mick 'Stano' Stanton. The Academy will cater for both adults and children with classes specifically for ages 3-6, 6-10, 11-15 and 16+. There will also be women only classes. In fact all ages and abilities are welcome with all coaches fully qualified, DBS checked, First aiders and insured. They also have both male and female personal trainers available for private coaching. Mark said 'this is a brilliant addition to the fitness facilities in Prescot. What a fantastic concept for everyone of all ages to benefit from and its clear that this open day has been a magnificent success. We cry out for things for our kids and this Academy will provide fitness, discipline and motivation for them. Mick's passion and enthusiasm for this is unmistakable and shines through and the classes will offer our community the opportunity to learn a wide range of arts from wrestling, kickboxing, jujitsu/judo and boxing. I wish them every success.'
Mick said 'I look forward to welcoming many new faces into our wonderful, state of the art, facility. The gym has been revamped and refurbished and we have taken a previously unused building and land and regenerated it to be an inclusive training and fitness facility to serve the local area. It has taken almost a year to get to this stage and I would like to thank all of those who have helped to bring this dream to reality. My team are here ready and waiting to help you. Urban Kingz MMA will also be proud to represent Prescot at various competitions within the UK and Europe in the near future. We believe we will have Champions come through our ranks to make Prescot proud.'
Sadly due to social distancing rules the Mayor was unable to take up Micks offer of some light sparring and grappling. However he has offered a return bout in the future when he can show Mick his signature 'Mayors Move.'
Check out Urban Kingz MMA on facebook for more details on class times etc.
https://www.facebook.com/urbankingzmma/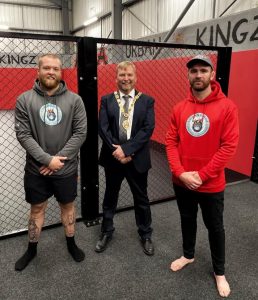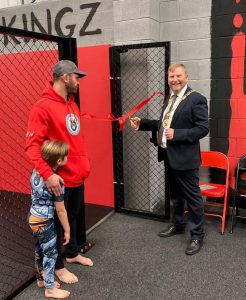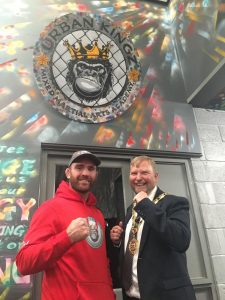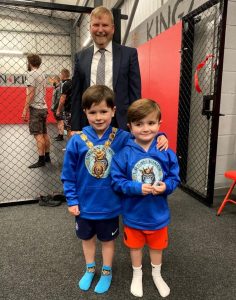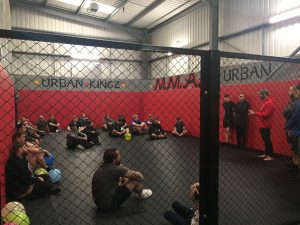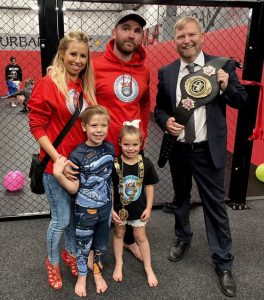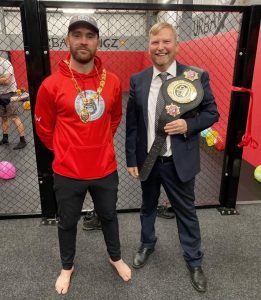 School Holiday Programme – FREE Lunch and activity pack
The Friends of Eaton Street Park have organised a Summer Holiday Programme. Government guidelines currently prevent the group from organising a mass gathering in the park so they have had to think 'outside the box. Here's what the group have planned:-
"We provide lunch and activities for 150-500 children each session and this initiative is INDEPENDENT of any other organisations though hopefully we may receive some support this time from the Big Help Project.
From Thursday 23rd July 2020 and then every Tuesday & Thursday during the summer holidays you can collect lunch and an activity pack from Prescot Town Hall (drive through on car park or front door for pedestrians) or Bryer Road Community Centre in Prescot (pedestrian only at front gate). You can collect from 10.30am until 1pm (or when we run out of supplies).
Packs will include everything needed for fun craft opportunities and things like making a bird feeder (including bird feed) and learning to grow edible food. Each week there is a different activity. Please bring a bag with you to take away your packs.
At the same time Prescot Town Council are running a School Uniform Recycle Scheme (you can drop off your uniforms 9.30am – 4.30pm Mon-Fri). You can ring Prescot Town Council on 0151 426 3933 and let them know your requirements and they will let you know when your order is ready enabling you to collect with your lunch.
We are grateful to Innovate Volunteering at Bryer Road Community Centre and Prescot Town Council for the use of the space to enable our initiative.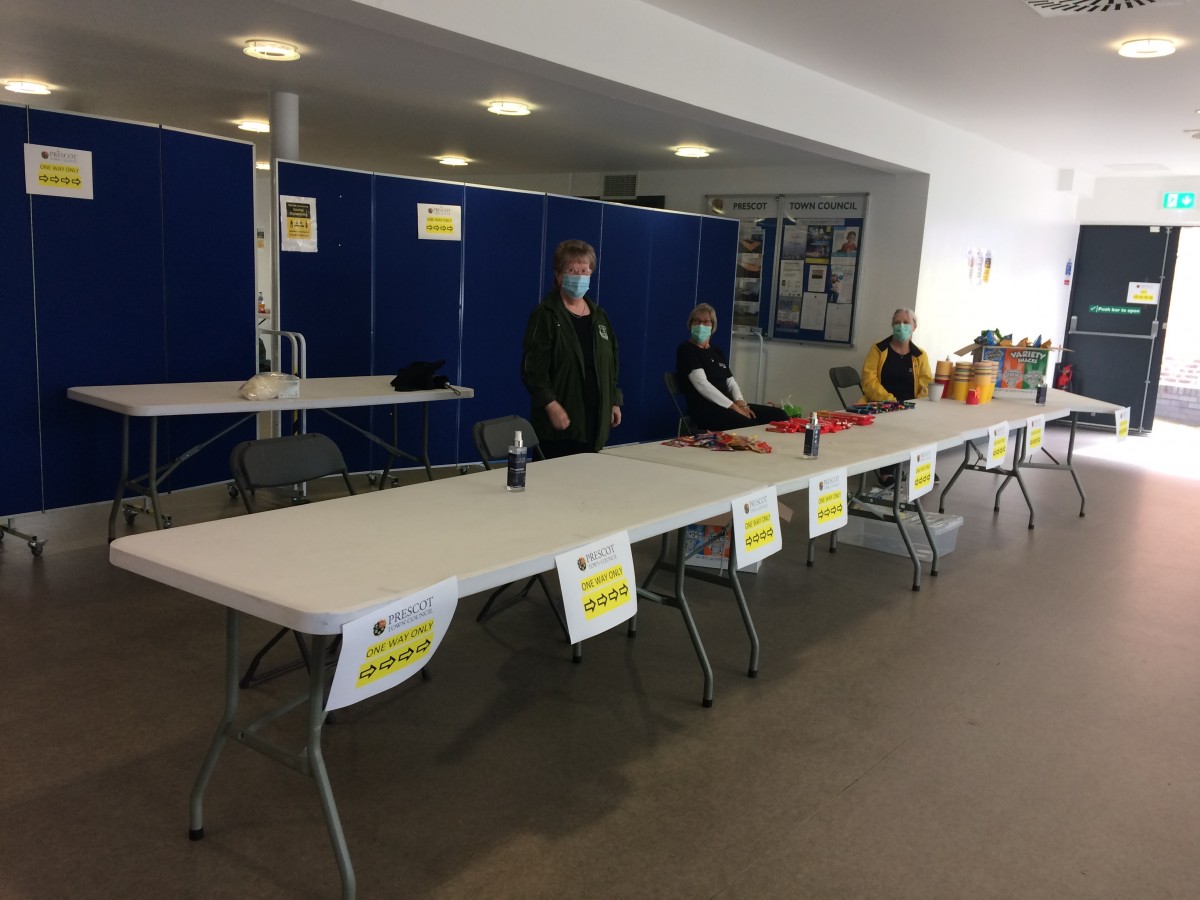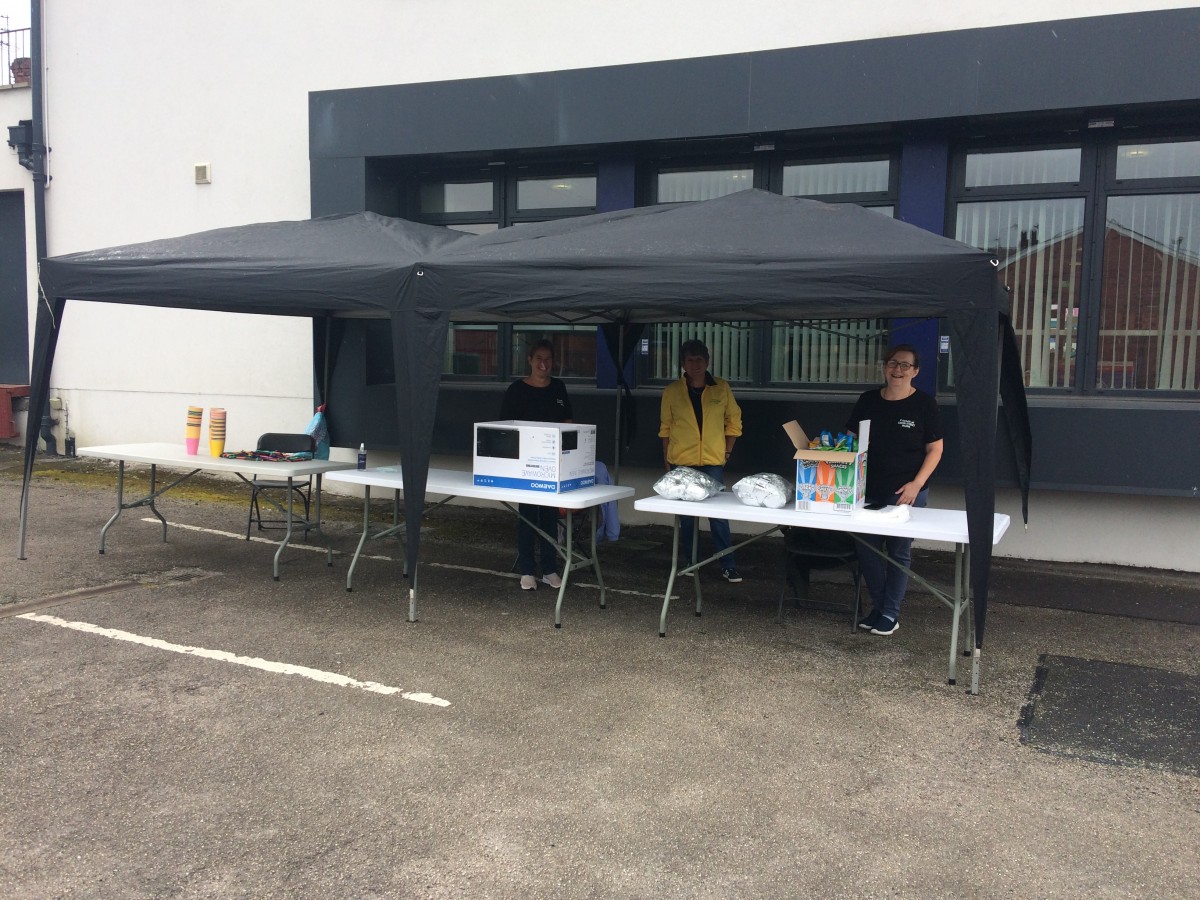 Provision for the Exercise of Public Rights 2019-20
Mayoral Opening of The Sun Inn
The Mayor of Prescot, Cllr Mark Burke was recently invited to the re-opening of The Sun Inn in Prescot. The Sun Inn had undertaken a mini refurb in the Mayors Parlour during the recent closure and the Mayor was delighted to be invited to re-open the pub by Richard and enjoyed a proper pint in good company whilst complying with the social distance measures in place. The pub also boasts an outdoor beer garden, why not pop in and enjoy some refreshments.
Mayor of Prescot Invited to visit Metalcrafts
The Mayor of Prescot, Cllr Mark Burke, was invited to view the recently refurbished premises of Metalcrafts, which is a traditional Blacksmiths workshop on our doorstep just down the road from Prescot Town Hall. There have been various businesses in this historic building, based on St. Helens Road since 1799. Metalcrafts is a family business which has been in situ for over a quarter of a century and is operated by 4 brothers, Chris, Andy, Gary and Daniel. They are renowned for their ironcraft expertise and were chosen to present Sir Bradley Wiggins with a bespoke piece when he represented Prescot in the Tour of Britain. The Mayor had a go on the anvil and created a beautiful piece of scrollwork (or did he haha) Chris said "we appreciate Prescot Town Council and the Mayor supporting Prescot businesses during these difficult times" Mark added "its amazing to see real craftsmen plying their trade in the heart of Prescot. You sense the history of this building as soon as you enter it. This is old school sweat and tears workmanship before your very eyes. It's utterly timeless."
Visit Metalcrafts website for all your metalwork needs https://www.metalcrafts-ltd.co.uk/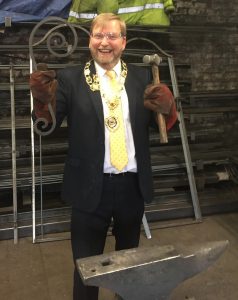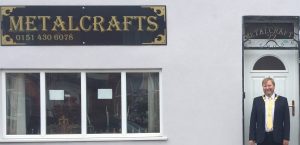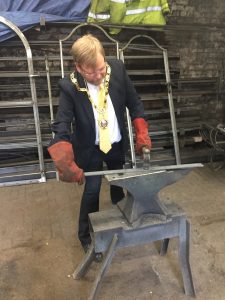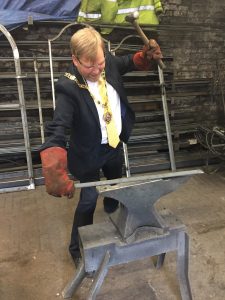 OTHER-WORLDLY STORY TAKES PRESCOT FESTIVAL PRIZE
The tale of a boy's dreams underneath a magical night sky has won the 2020 Prescot Festival Short Story Competition.
Rita Simpson, from Huyton, received £100 and publication on prescotfestival.co.uk for the bittersweet fantasy 'When You Wish upon a Star.' The judging panel said the story's charms captured their attention from beginning to end.
The contest was the only aspect of the local arts festival that was able to go ahead this year. It was the first time the festival had been cancelled since its inception, in 2005.
Music lovers online nevertheless enjoyed an array of archived video performances from some of the acts scheduled for the 16th festival, including Dr Jazz and the Cheshire Cats, Foden's Band and Phoenix Concert Orchestra, the Liverpool-based ensemble that celebrates its 20th birthday this year.
Most of this year's artists have expressed an interest in returning in 2021.
'It's a challenging time for the arts nationwide, but we're determined not to let it get us down,' said artistic director Dr Robert Howard, a composer, conductor and music teacher at St Edward's College.
'We're looking at ways to reintroduce concerts and events on a small scale later in the year, and we've no doubt that the joy of live music-making will resume in Prescot and other communities.'
The Prescot Festival has been at the forefront of the renaissance of arts and music in the town over the past decade-and-a-half.
In medieval times Prescot was a centre of commerce and culture in Lancashire, and in the late 16th century it was the site of the first purpose-built theatre outside of London—a legacy celebrated by the Shakespeare North Playhouse, now under construction.
The festival has long aimed to commemorate the area's rich Lancastrian heritage, of which Prescotians are especially proud. Its celebration of culture includes not only the 10-day annual festival, but a year-round programme of arts and music and a commitment to promoting other arts groups and initiatives in the area.
Find out more, and read this year's winning short story, at prescotfestival.co.uk.
School Uniform Donations Required
Prescot Town Council are pleased to announce that we will once again be able to receive your donations of school uniform from Monday 6th July 2020 between 9.30am – 4.30pm weekdays only.
All uniform must be freshly washed and placed in a securely tied bag (not left loose) as they will be placed in a secure bin once donated.
Please use the buzzer at the car park barriers or via the front door entrance to alert staff that you wish to donate school uniform and you will be directed to where the donations can be left. All donations will be received contactless.
BBC's The One Show – As You Write It – Your Play on Stage Competition

What is As You Write It – Your Play on Stage?
At a time when we are all missing out on the magic of going to the theatre, The One Show, along with The Shakespeare North Playhouse is launching an exciting new playwriting competition, giving children and young people across the UK the opportunity to see their ideas come to life on stage. We hope this will help inspire the next generation of playwrights as well as encouraging a love of theatre and the arts in children and young people.
The competition is open to all children and young people aged between 7 and 16 years old. It opens for entries at 7pm on Thursday 25th June 2020. The deadline for entering the competition is just before midnight on Monday 31st August 2020.
All you need to enter is an idea for a play, a short description of up to four of the main characters and the first few opening lines. You'll also need to tell us what having the opportunity to write your play and have it performed on stage would mean to you.
What is the prize?
From the ideas submitted, three finalists from each of the three categories will be chosen and announced on The One Show during autumn 2020. They will then have the opportunity to develop their ideas with professionals and write their final play.
A winner will be selected from each category based on their final play. Winners will be announced on The One Show in early 2021 and an excerpt from their play will be shown on the programme. The final three winners will receive a special award and have their play performed at The Shakespeare North Playhouse when it opens in 2022.
The development of The Shakespeare North Playhouse is being overseen by The Shakespeare North Trust. It is currently being constructed in Prescot on Merseyside. Once built, it will complete the UK's Shakespearean triangle – London – Stratford-upon-Avon – Prescot. Alongside a flexible 350 seat theatre, the Playhouse will also provide educational facilities, a visitor centre and additional performance spaces including an outdoor performance garden.
Categories:
Entry categories are divided by age group as follows:
ACT ONE – 7 – 10 year olds
ACT TWO – 11 – 13 year olds
ACT THREE – 14 – 16 year olds
The entry must be submitted into the correct age category according to your age on 31st August 2020, which is the competition closing date.
How to Apply:
Make your submission using the ACT ONE online entry form, ACT TWO online entry form or ACT THREE online entry form as early as possible before the deadline. Please make sure you have all the information outlined below before you start your form. ALL entries must be submitted by a parent or guardian.
More details can be found here.
Knowsley's COVID 19 Community Support Line