Point of clarity with regard to confidential item at Prescot Town Council Extra Ordinary Meeting 8th January 2019
AMENDED NOTICE OF MEETING
Prescot Town Council – Christmas Closure
Mayor of Prescot's Charity Christmas Concert raises a massive £1004
The Mayor and Mayoress would like to say a huge thank you to the Prescot Festival for organising the Charity Christmas Concert and the participants for a truly amazing concert and to all who supported the event which raised a splendid £1004 for the Mayor's Charity once again many thanks.
Dave and Jackie
The Mayor & Mayoress of Prescot
High Spirits in Prescot as Christmas Lights go on
Around 400 residents gathered in Prescot on Saturday to see the Town Centre's Christmas Lights get turned on. The event provided a host of local groups and performers with the opportunity to showcase their vocal cords, dancing feet or raise money for their causes. The groups were represented by all of our active parks groups including Friends of KGV Brown's Field and Carr Lane Woods, Friends of Eaton Street Park, Friends of Prescot Churchyard and Cemetery and NHS SOS. The audience were kept entertained by performances from singer Keiron Kenny, Jan Williams Theatre School and Prescot Primary School Choir all of whom were brilliant. The performances stopped to allow the now traditional selection pack give away a Town Council initiative that adds a little something extra to the day with 365 selection packs given children at the event. This was also complimented by Prescot Cables who were on hand to issue free family tickets to all those in attendance.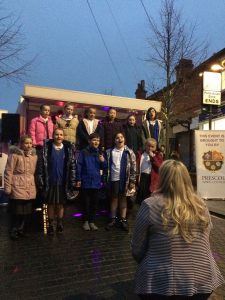 The lights themselves were turned on by the Mayor of Prescot who was ably assisted by Prescot Citizen of the Year 2018-19  – Leah Whitehead.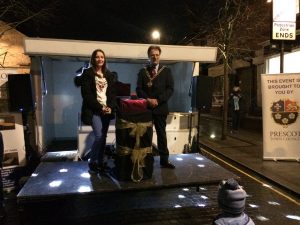 The Town Council would also like to thank VIVARK who provide the stage, Steve Dumbell of North Mersey Business Centre for the DJ booth and generator and Geruard Markets for the use of four marquees and finally a big thank you to all those who help out on the day to make the event the continuing success that it is.
Part time Clerk of Works – Shakespeare North Playhouse
Part time Clerk of Works – a once in a lifetime opportunity to contribute to Shakespeare North Playhouse
£31,401– £33,136 per annum (pro-rata)
Two years fixed term
Shakespeare North Playhouse is an iconic new theatre and cultural centre in Prescot, Knowsley, of local, regional, national and international importance. With a year round performance programme, an exhibition centre and facilities for schools, higher education students and the wider community it will be a significant and high quality addition to the visitor offer of the region. The building itself is a blend of modern and traditional design with an historic timber framed auditorium at its heart.  Knowsley Council is managing the capital build of Shakespeare North Playhouse and has appointed Kier Construction as the preferred main contractor. Shakespeare North Playhouse plans to open in early 2021.
Knowsley Council is now seeking a qualified and experienced Clerk of Works to join its Shakespeare North Programme Team. You will monitor and evaluate works on-site to ensure operations and construction works are carried out in accordance with agreed drawings and specifications and to the required quality and statutory standards.
Normal hours per week are 14.4 over 5 days but you will need to be flexible enough to vary times worked to suit the needs of the job. With a sector recognised Clerk of Works related qualification, you will be a positive person and an excellent communicator with the necessary technical knowledge and problem solving skills to assist with the resolution of on-site queries and issues.
For an informal discussion please contract Siobhan Bird, Programme Manager on 0151 443 3684.
Closing Date:  Friday, 4 January 2019
How to apply:
For further details and an application pack, please visit our website at: http://www.knowsley.gov.uk/jobs/knowsley-council-vacancies.aspx
Christmas Fayre on Friday 30th November 2018