Need Help getting to a COVID vaccination
Volunteers act to combat vandalism in our parks
Whilst we all love the sunshine of summer months, unfortunately they also seem to bring with them a craze for causing damage to our much loved parks.
So far mindless vandals have caused damage to the bespoke Welcome mural (£600 to repair and repaint), cut holes in the bowling green fence (£400 per panel) and snapped newly planted trees (£300 each).
The cost of the vandalism means that monies allocated to improving the park for all are now being spent on repairs and target hardening measures to protect what we have, rather than making the park better for all.
If your children hang around on our parks that's brilliant that is what they are there for but have a word with them and tell them they should be enjoyed by all not damaged so that that enjoyment ruins the enjoyment for others. If they come home with anti vandal paint on them they have been up to no good, you only get this stuff on you if you are somewhere you should not be. Anti Vandal paint will ruin your cloths and takes ages to clean off your skin.
Today a team of volunteers from the Friends of Eaton Street Park assisted by officers from Prescot Town Council and the resident Gardener from Knowsley Council took steps to target harden the bowling green from further vandalism by planting a hedge made up of Hawthorn and Pyracantha along with the use of anti vandal paint in strategic points.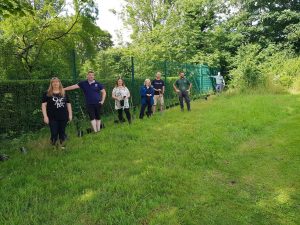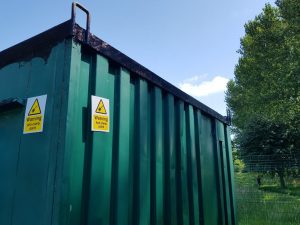 Once established Hawthorn and Pyracantha will not only provide a formidable barrier but also a beautiful hedge feature of orange and white that is absolutely loved by wildlife.
School Uniform Recycling Project 2021
School Uniform Donations Needed
SCHOOL UNIFORM DONATIONS NEEDED
Prescot Town Council are pleased to announce that we will once again be able to receive your donations of Good Quality School Uniform from Monday 5th July 2021 between 9.30am – 4.30pm weekdays only at Prescot Town Hall.
Uniforms accepted from
St Mary & St Paul's Primary
St Lukes Primary
Prescot County Primary
Evelyn County Primary
Our Ladys Primary
Edmund Arrowsmith Academy
Prescot Academy
All uniform must be a condition you would put on your own children, freshly washed and placed in a securely tied bag (not left loose) as they will be placed in a secure bin once donated.
Please use the buzzer at the car park barriers or via the front door entrance to alert staff that you wish to donate school uniform and you will be directed to where the donations can be left. All donations will be received contactless.
The Uniform recycling scheme is for everyone and promotes recycling good quality uniforms and preventing landfil.
Uniforms will be available every Tuesday and Thursday 11.30-2pm from 27th July to 31st August at the Pavilion, Eaton Street Park.
https://twitter.com/TownPrescot
https://www.facebook.com/PrescotTownCouncil
Change of meeting date for June
Please be advised that the Town Council meeting scheduled for 6pm 24th June at Prescot Town Hall has been moved to 6pm on 25th in order to accommodate social distancing requirements.
Mobile COVID-19 Testing in Prescot
Residents in Prescot will be able to access PCR testing due to increasing numbers of cases in the area.
Prescot Soccer Centre on Warrington Road, Prescot. The Mobile Testing Unit will be open from 10am until 3pm on Wednesday 16 June, Thursday 17 June and Friday 18th June
The Mobile Testing Unit will offer COVID-19 testing to residents who are:
Showing symptoms of COVID-19. Symptoms include a high temperature, new or persistent cough or a loss of taste or smell
Generally feeling unwell such as experiencing headaches, a sore throat or runny nose
Have been in close contact with someone who has tested positive
Has been in close contact with someone who is experiencing symptoms of COVID-19
Please note: the site is operating as a walk-in testing site, with limited parking available at each site. Please where possible walk to the testing unit and book an appointment
Booking an appointment
Appointments are required and they can be booked through www.gov.uk/get-coronavirus-test or by ringing 119. Other PCR testing sites are also available in the Borough (Huyton, Kirkby and Stockbridge Village) and appointments at those sites can be booked through the same link.
Test results are normally returned in around 24 hours.
The Mobile Testing Unit will be located at St Andrew's Church / The Star Children's Centre on Shevington Lane between 10am and 3pm on Wednesday 16 June and Friday 18 June, and at Prescot Soccer Centre on Wednesday 16 June, Thursday 17 June and Friday 18 June.
Residents are asked to remember to wear a mask when attending the Mobile Testing Unit and to ensure they keep a safe distance from those not in their household.
In addition, residents should return home and stay at home until their test result is confirmed.
With restrictions being eased, opportunities for more social interactions and variants of concern in circulation, it's important that anyone with symptoms or who has had a positive test with a lateral flow / home testing kit, are tested. Importantly, if the PCR test is positive, they can self-isolate and stop passing on the virus to others.
Prescot Needs You
All opportunities will be provided in line with current government guidelines to provide a safe environment for all involved.
Deadline for applications by Midnight 29th June 2021.
For more information and to apply click on the link below:
https://www.imaginariumtheatre.co.uk/makers-and-players
New Playground for Brown's Field on its way !!!!!
We have just received confirmation that our funding application to the Veolia Environmental Trust for £75,000 has been given conditional approval.
The application has been a collaboration between the Town Council, KMBC 's Parks Team and Friends of KGV Brown's Field and Carr Lane Woods, so we are delighted that our partnership approach has paid dividends.
However, the support and feedback of all those who completed the online questionnaire along with letters of support from St Mary and St Paul's Primary, Evelyn Primary and Friends and Family Play Centre will have really helped, so a huge well done to everyone. It might not always seem worth your time and effort, but filling in a simple questionnaire really can make a difference and together we really are improving our Town and Green Spaces for the benefit of all.
We will keep you posted as we progress with the project as there is still a lot to be done before we can contemplate making a start on site.
Tapestry of Tales Free Drop in Sessions – Every Saturday 11am – 2pm
Saturdays 11am – 2pm.
Everyone in the community is invited to take part in these free drop in sessions and help create Shakespeare and Prescot themed tapestry panels, which will be displayed at the grand opening of the brand new Shakespeare North Playhouse, before being installed in the Imaginarium Roundhouse on the Market Place Piazza.
The vision is to bring together contributions from all parts of the community, no matter what age or ability, to create a beautiful set of sewn tapestry panels which represent the rich history of the town of Prescot and our Shakespeare connection.
All ages and levels of experience are welcome!
Provision for the Exercise of Public Rights 2020 -2021