New Playground for Brown's Field on its way !!!!!
We have just received confirmation that our funding application to the Veolia Environmental Trust for £75,000 has been given conditional approval.
The application has been a collaboration between the Town Council, KMBC 's Parks Team and Friends of KGV Brown's Field and Carr Lane Woods, so we are delighted that our partnership approach has paid dividends.
However, the support and feedback of all those who completed the online questionnaire along with letters of support from St Mary and St Paul's Primary, Evelyn Primary and Friends and Family Play Centre will have really helped, so a huge well done to everyone. It might not always seem worth your time and effort, but filling in a simple questionnaire really can make a difference and together we really are improving our Town and Green Spaces for the benefit of all.
We will keep you posted as we progress with the project as there is still a lot to be done before we can contemplate making a start on site.
Tapestry of Tales Free Drop in Sessions – Every Saturday 11am – 2pm
Saturdays 11am – 2pm.
Everyone in the community is invited to take part in these free drop in sessions and help create Shakespeare and Prescot themed tapestry panels, which will be displayed at the grand opening of the brand new Shakespeare North Playhouse, before being installed in the Imaginarium Roundhouse on the Market Place Piazza.
The vision is to bring together contributions from all parts of the community, no matter what age or ability, to create a beautiful set of sewn tapestry panels which represent the rich history of the town of Prescot and our Shakespeare connection.
All ages and levels of experience are welcome!
Provision for the Exercise of Public Rights 2020 -2021
Discover Prescot at Summer Arts Festival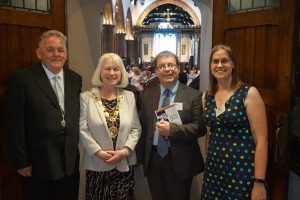 A Merseyside arts festival invites you to explore one of the region's hidden gems this June.
The Prescot Heritage Trail is part of the opening weekend's schedule at this year's Prescot Festival of Music & the Arts.
Participants will download a free map and booklet as their guide to the historic Lancashire town, and from Saturday 19 June they can follow the route at their own leisure, solving the clues as they go.
Proceedings start online on Friday 18 June, with a special video welcome by artistic director Dr Robert Howard and a penned greeting from patron Ian Tracey—Organist to the City of Liverpool, Organist Titulaire of Liverpool Cathedral and Chorusmaster to the Royal Liverpool Philharmonic Society.
The evening continues with a free screening of vintage Prescot films, including rarely seen '70s footage.
There'll be something online or offline for every day of the 10-day festival, the 17th since the event was founded in 2005.
'We've overcome a few uncertainties to ensure a full programme this year, with some in-person events and plenty of online content to inspire and entertain,' said director Dr Robert Howard.
'Look out for young musicians from Liverpool Cathedral, an exclusive talk from Shakespeare North Playhouse and artwork from the local community, including Bluebell Park School.'
The Prescot Festival runs from Friday 18 to Sunday 27 June 2021, and the schedule is now online at prescotfestival.co.uk.
School Holiday Free Picnic Lunch & Activity for local children
The Friends of Eaton Street Park will once again be providing a FREE picnic lunch and activity for all local children to collect from Eaton Street Park Pavilion and St Mary & St Paul's Church, Bryer Road between 11.00am – 12.30pm on the following dates:
*Tues 25th May
*Thur 27th May
*Tue 1st June
*Thur 3rd June
Pop over to their Facebook page and give them a like so you don't miss out on upcoming events and activities. The Friends also run a community food club every Monday and Wednesday at Eaton Street Park Pavilion – see poster for further details.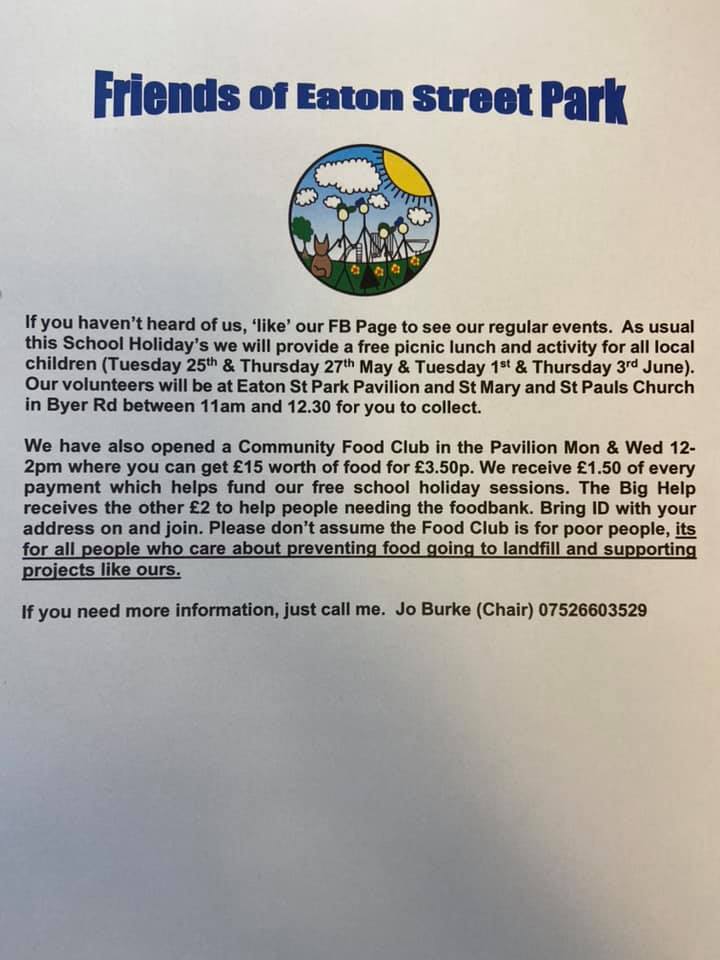 The Mayor of Prescot's 'Back to School Help Fund'
Today (18th May 2021) saw the creation of The Mayor of Prescot's 'Back to School Help Fund' as the Mayor of Prescot, Cllr Mark Burke distributed gift cards for 100 pairs of School shoes to Prescot's 5 Primary Schools. This is a brand new fund that the Mayor has been able to create due to your generosity in supporting the Mayor of Prescot's fundraising efforts over the last 12 months which have exceeded all expectations in this time of crisis.
Prescot Town Council already operate a highly successful school uniform recycle scheme. However the Mayor noticed that very few school shoes were being recycled as the children wear them out so quickly. Each school can now distribute the gift cards to those who are currently in most need.
The Mayor also presented each school with gift cards for Urban Kingz MMA for free lessons for those children who may need a confidence boost or help with discipline or fitness. Again this is a brand new scheme to help our most vulnerable children.
Thank you all for your support!
Willowbrook Compassionate Neighbours Scheme
The Compassionate Neighbours scheme aims to combat loneliness and isolation through training volunteers to support members of our community who are living with poverty or ill-health. After the initial pilot scheme in Whiston and Prescot, we plan to expand the service across the whole of St Helens and Knowsley.
We would like to invite members of the communities of Whiston and Prescot to nominate themselves or nominate others who they feel would benefit from the Compassionate Neighbours service.
To do this you can fill the form in online https://willowbrook.org.uk/compassionate-neighours/ or call The Volunteer Hub on 01744 453798 for further information
Given the current situation with the pandemic, as always, safety is our number one concern. As a result we are starting with a very cautious and phased approach which will be kept under constant review.
Compassionate Neighbours volunteers are fully trained to provide their time, companionship and support to people living in the community. We will match someone to support a community user according to their likes, hobbies, interests and location. There will be no charge for this service although donations are always welcomed to support the vital work of Willowbrook Hospice.
click here to view the leaflet
Shakespeare, Town Trials and Young Musicians among Prescot Festival Events
The Prescot Festival will go ahead with 10 days of arts, music, culture and entertainment this June.
The Shakespeare North Playhouse, Prescot's period Jacobean theatre named for the Bard of Avon and currently under construction, will feature prominently. In an exclusive online appearance on Tuesday 22 June, Creative Director Laura Collier will reveal what the first year's programme will look like once the highly anticipated performance venue opens in 2022.
Liverpool Cathedral will also play its part, with a broadcast of its 2021 Festival of Music on Friday 25 June, celebrating the skills of young musicians from across Merseyside. Ordinarily, the Prescot Festival hosts its own Young Instrumentalists of Prescot, an event that has featured dozens of gifted local performers since 2013. Among past participants is pianist and tenor Sonny Fielding, whose talents secured him a scholarship to study singing at Glasgow's Royal Conservatoire of Scotland—and now he's on his way to London, having been awarded a postgraduate scholarship at the equally prestigious Royal Academy of Music.
In-person events include a Prescot Cultural Trail from Saturday 19 June, when potential explorers can download a free map and follow the clues to discover some of the town's most iconic landmarks.
People are also encouraged to attend the Choral Eucharist on Sundays 20 and 27 June at Prescot Parish Church, either online or in person.
Entries are already coming in for the annual Short Story Competition and the festival's first ever Community Art Display, and information on how to participate in those is online at prescotfestival.co.uk.
'We're on the precipice of a nationwide return to full-scale concerts and big events,' said artistic director Dr Robert Howard, 'and in anticipation we're excited to be keeping the spirit of the Prescot Festival alive with a mixture of online and offline arts and music this year.'
The 17th annual Prescot Festival takes place from Friday 18 to Sunday 27 June. The full schedule of free events is now online at prescotfestival.co.uk.
Community Group Newsletter – Issue 20