Prescot Town Council's Winter Coat Recycling Project is proving a massive hit with local residents. In little over 4 weeks the Town Council have taken in and redistributed a whopping 583 winter coats.
Those coats that have been donated are all of the highest quality and in fabulous condition, many of our donors just fancy a different look this year or in some case the coats just no longer fit (perhaps a positive or a negative side effect of being locked down). Whatever the reason we have received coats of all different ages, sizes and styles, weather you fancy walking in the highlands or the high street we have got you covered (quite literally in this case).
Donors also have the knowledge that they are doing their bit for the environment, the fashion industry has a huge environmental impact globally and the idea of throwing away perfectly good clothes is simply ludicrous, especially when someone in the next road might fancy your dapper dress, coat etc. There is a huge market for 'vintage' clothes so this is not a new concept just a newer and more local way of finding these items a new owner, did you know:
85 % of the daily needs in water of the entire population of India would be covered by the water used to grow cotton in the country.
100 million people in India do not have access to drinking water.
Stephen Leahy, The Guardian
Our original aim was to offer a pop up shop at the Town Hall, which until lockdown 2 was going great with elected members and volunteers giving their time to sort the donations and administer the service. Then the news came that we must once again close our doors, this prompted a new way of thinking and delivering the project via our Facebook page. where people can view the coats online and make reservations.
https://www.facebook.com/pg/Prescot-Town-Council-1792711174311104/photos/?ref=page_internal
Our latest venture saw two of our elected members and a member of staff provide a 'Pop Up Shop' at St Pauls Church car park on Molyneux Drive.
Cllrs Joanne Burke (right) and Pat Cook (left) braved the elements along with staff member (and photographer) Liam Johnson to see 72 coats find a new owner in just a couple of hours. Huge thanks to St Pauls for allowing us the use of their car park and tables to facilitate the event.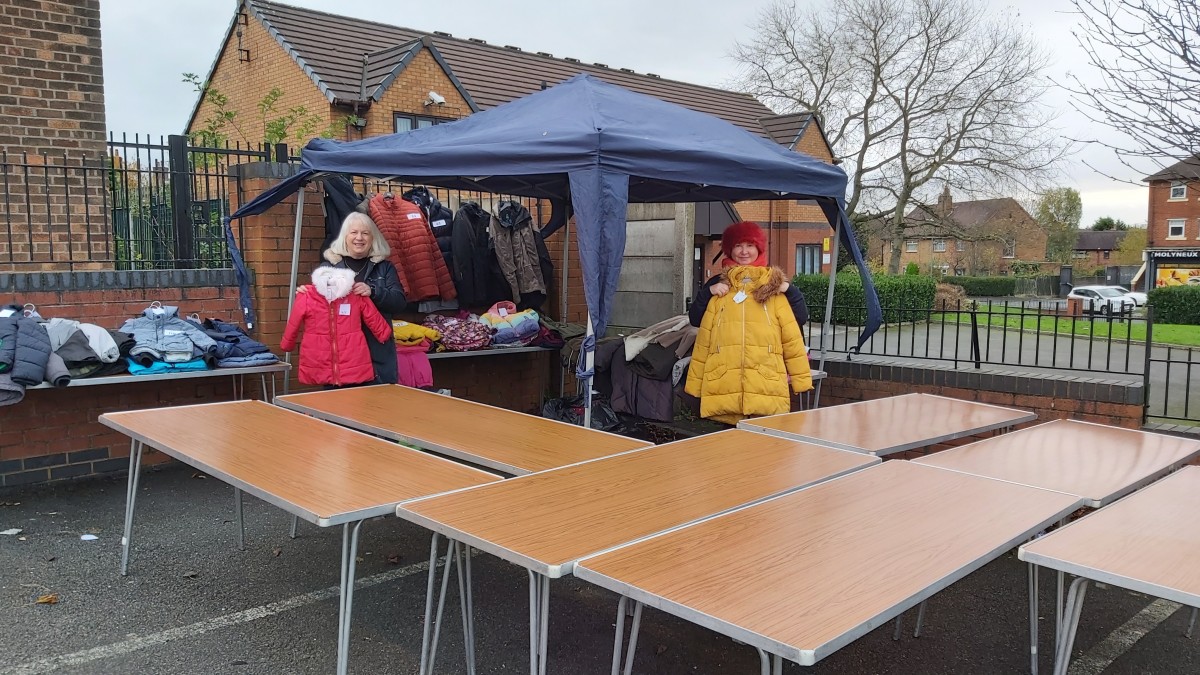 We will now be accepting donations for another week at Prescot Town Hall 9am to 4pm Monday to Thursday. Anyone wishing to donate can do so by using the specially provided recycling bin at the back of the Town Hall accessed through the Car Park, use the intercom for access.