Community Fund
Prescot Town Council is able to provide Small Grant Funding of up to £500 for local community projects.
What is Section 137 funding?
Section 137 refers to the Local Government Act 1972, which 'empowers Local Councils to have the power to spend up to a prescribed amount in any one year for the benefit of the inhabitants of the area or part of them.'
Who can apply?
Section 137 is open to any community, voluntary, charitable or non-profit making organisation based in Prescot or predominantly serving the Prescot community. Organisations must be:
Properly Constituted
Have a bank account with at least two signatories
Provide a benefit to residents of Prescot
Be able to provide evidence of spend for the entirety of a project to which the Town Council have provided funding
For further details please read the guidance notes attached below and if you wish to make an application please complete the application form which is available by clicking the link below:
Community Fund Application Form
Community Recognition Awards
Prescot has a rich tradition as a Town with a strong community, sometimes the efforts of particular individuals and groups stand out as being above and beyond that of a usual citizen. These groups and individuals are not always aware of the positive impact they can have, on both individuals and the wider community, and can go largely unsung for their actions.
In order to recognise these individuals and the positive contribution they make to the lives of others, the Town Council operate the Prescot Community Recognition Awards every year.
Nominations for 2023 are now open. Please complete a nomination form and return to Prescot Town Council.
The closing date for nominations is Friday 7th July 2023.
2022 Winners
Evolving Mindset CIC – Prescot Community Group of the Year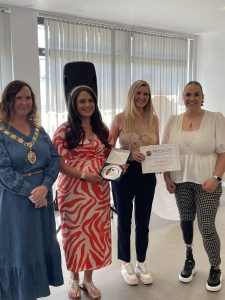 Evolving Mindset are a not-for-profit mental health organisation that delivers high quality, industry leading services led by experienced and highly qualified Mental Health Nurses and facilitators. They are committed to challenging the stigma associated with mental health by providing free mental health support for adults and young people in our communities.
Since inception in 2019 Evolving Mindset have supported over 1900 people experiencing mental health difficulties completely free of charge throughout the pandemic. Participants have been referred through local GP services (Prescot Medical Centre) and social prescribing link workers in addition to self-referral process. None of this could have been possible without the dedication and commitment of the non-paid volunteer team at Evolving Mindset who have gone above and beyond in providing free support to our communities at a time when other Mental Health support services in the area closed their doors. This has benefitted the Prescot and surrounding areas so much and has been the lifeline of so many in our community that were experiencing mental health difficulties during and post pandemic. The volunteer team has helped keep our communities safe and offered emotional and psychological support at times from people in a suicidal crisis who due to the stigma associated with Mental health people were reluctant to access clinical support. The team of volunteers worked tirelessly in creating safe spaces for people to discuss their concerns and signposting to other support strategies or organisations to help people through their mental health difficulties. This all on top of their busy day jobs.
You can find more information on Evolving Mindset CIC here
Mrs Dorothy Krelle – Prescot Citizen of the Year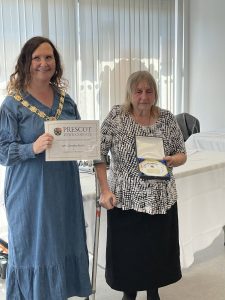 Dorothy is a member of The Salvation Army in Prescot and as well as helping at church she is constantly on the go responding to the needs in the community and surrounding area. She is a foodbank volunteer and does all she can to ensure any needs that can be met are dealt with to the best of her ability. This past year she has also supported her son Christopher Krelle in his duties as the Town Mayor, doing all she could to help him in his charity work as Mayor of Prescot. Most of her life Dorothy has looked to the needs of others wherever possible.
click here for more information on The Salvation Army Prescot
2021 Winners
Prescot Mission Christmas Dinner Group – Prescot Community Group of the Year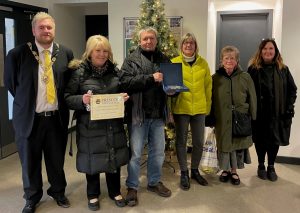 The group was set up in January 2018 as a direct response to members of the Prescot Community being alone in the community on Christmas Day. The group spent a year fund raising and then provided transport for 30 people to attend Prescot Town Hall on Christmas Day to enjoy Christmas Dinner prepared by a chef, entertainment by a local singer and the company of the volunteers for the day. They were each given a food hamper to take home. A further 30 people who were unable to leave their homes were provided with a delivery of Christmas Dinner and a hamper.
The following year the group's plans were adapted to accommodate COVID and the impact on the community, many of whom were furloughed, on zero hours or becoming unemployed as a consequence of the pandemic. There was never a greater need than to support the community in these unprecedented times and the group fulfilled this objective.
The group provided 170 families with a butcher (or alternative for non-meat eaters) voucher 2 weeks before Christmas (£25) and a Hessian Christmas Sack containing Seasonal Fruit and Vegetables, Christmas Pudding, box of Christmas Crackers & carton of sweets (£25) 2 days before Christmas and all delivered discreetly to their homes.
Families were identified by all of the local primary schools, Children's Centre and Professionals with Prescot Town Council Councillors also able to refer residents who were in need. The group fund raised close to £8000 to cover the cost of this initiative of feeding 170 families on Christmas Day.
Many families have given feedback stating what a massive lifeline this was for them and in view of this the group have been finding innovative ways to fund raise once again this time with a goal of meeting the need of 200 families in the community this Christmas 2021.
Given many organisations such as local foodbanks were unable to function during COVID it is a phenomenal achievement that this group carried on regardless, both in generating funds and being able to work with other partners in identifying the people who really needed this offer, navigating COVID guidance and getting the offer to the recipients in a safe manner whilst protecting their identities. In effect this group has made Christmas happen for many of Prescot's residents and all the groups volunteers should be recognised for their work.
You can find more information about the group here and make a donation.
Mrs Jean Fletcher – Prescot Citizen of the Year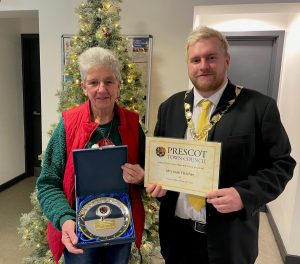 Jean Fletcher is a founding member of the Friends of Eaton Street Park and has been integral in the group's development over the past eleven years. The volunteer hours given at almost every event ever delivered by Jean are incalculable, but they have been given selflessly. Running along parallel with this is her volunteering for Willowbrook Hospice, originally at their St Helens shop and transferring to Prescot when the shop opened here several years ago. Jean has been a shining light amongst the groups and is absolutely dependable with a 'roll your sleeves up and get on with it attitude.' Unfortunately, Jean lost her husband earlier this year and despite the massive impact of this she has continued to fulfil the volunteer duties previously mentioned.
Jean has contributed to the betterment of the Friends of Eaton Street Park and ultimately one of the two parks in Prescot, promoting its use and nurturing the green space. Jean certainly has made an outstanding contribution to the Prescot Community.
You can find more information about the Friends of Eaton Street Park here.
You can find more information about Prescot Willowbrook Hospice Shop here.
2020 Winners
ADAM – Prescot Community Group of the Year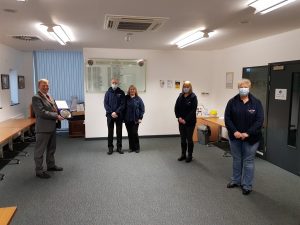 Malcolm Fleet – Prescot Citizen of the Year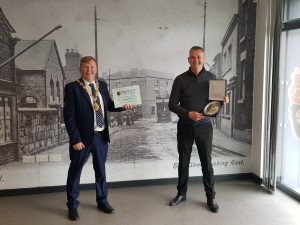 Al's Arc – Prescot Community Group Runner up of the Year
James Inglesby – Prescot Citizen Runner up of the Year
2019 Winners
Karl and Clare Duvall – Citizens of the Year
Founders of the Red Box Appeal in Prescot and then Knowsley. It was through Karl's role as school governor at the Prescot School that he became aware a startling problem affecting students. Although the problem must have existed for some time it had never been addressed. Karl learnt that a number of female students were losing valuable schooling as a result of not having appropriate sanitary products to address their menstrual cycle, which led to them not attending school during this time. Appalled by this knowledge Karl and Clare decided to take action by developing the Red Box project. Initially for The Prescot School, the Red Box Project is a simple concept whereby a Red Box is provided to a prominent building enabling people to donate sanitary products, the contents of the box are then collected and distributed to those who need them. The project was such a success Karl and Clare soon moved beyond the town boundary and have pushed the project out to almost every school in Knowsley. We live in a Town and wider area where there exists high levels of deprivation, that deprivation is not solely experienced by students at our local schools but also their parents and it has also been the case that some male students have accessed the Red Box to provide its contents to their families at home.
The project that Karl and Clare have conceived, developed and delivered has addressed a serious issue affecting education and wider issues within our Town and indeed the borough. It is literally impossible to estimate the number of lives they have had a positive impact on and the number of school hours that would had been lost had they not developed the Red Box project, it is people like this that change perceptions, reveal problems and do something about them, we should be honored to call them Prescotians.